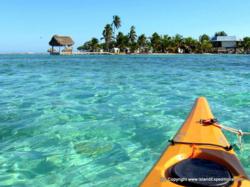 Belize is an incredible destination. The people of Belize are among the friendliest and most helpful I have ever met. Without hesitation, we would return to see more of this beautiful nation. Brent, Kim, Emmet & Avery Lakeman
Dangriga, Belize (PRWEB) February 15, 2013
Island Expeditions, Belize vacation specialists, are offering 40% off their February 25 and March 4, 2013 departures for their seven night Glover's Reef sea kayaking, snorkeling, and yoga Belize holidays. This special rate is only available on the departures listed, and must be purchased on Presidents' Day, February 18, 2013.
Glover's Reef Marine Reserve is a World Heritage Site, and considered to be one of the richest tropical marine environments in the entire Caribbean Sea. At Glover's island Basecamp, trip participants enjoy a variety of activities including snorkeling, kayaking, stand up paddleboarding, and yoga, with the flexibility and freedom to do things together or separately.
New for this trip season, the Glover's Reef and River of Caves trip includes a leisurely float down a rainforest river with inner tubes, exploring a fascinating limestone cave. At the Belize Zoo, participants now get an up-close encounter with a jaguar as they are taken on an insider's tour of the zoo's first-ever of its kind wild cat rescue program.
Presidents' Day Travel Sale 40% Off
Glover's Reef; Save 40% - Feb 25 and March 4 departures now $1219 - Regular $1899.
Glover's Reef Adventure Basecamp. Includes accommodations, meals, sea kayaking, snorkeling, yoga, stand up paddleboarding, guided instruction and more.
7 nights.
Book on February 18, 2013, 9-5 PST by calling 1-800-667-1630 or emailing info(at)islandexpeditions(dot)com to take advantage of this special sale rate. Limited availability. Net, non-commissionable rate. Offer cannot be combined with any other specials or discounts. Discount price based on pre-tax net rate. Visit http://www.islandexpeditions.com for trip information and to request a free 36 page Belize adventure guide.
About Island Expeditions - Leading the way to adventure for 27 years
Island Expeditions specializes in Belize and Yucatan adventure travel, offering small group trips to special places where few others travelers go...remote coral reefs, tropical rainforests and rich indigenous cultures. Trips provide skilled instruction in outdoor activities, as well as fun, learning and genuine interaction with the local people. No experience is necessary and trips are suitable for all levels. Island Expeditions is committed to responsible tourism, conservation and local education, supporting the Belize Zoo, Belize Audubon Society and local conservation initiatives. For student groups, Island Expeditions has been offering specialized programs for high schools, colleges and universities for over 20 years.
National Geographic Adventure Magazine rated Island Expeditions as one of the 'Best Travel Companies on Earth'.