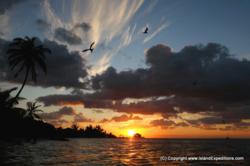 Dangriga, Belize (PRWEB) May 30, 2013
To combat winter's darkest days, Island Expeditions, Belize vacation specialists, are offering big savings on three popular Belize Adventures prior to the shortest day of the year - the December 21st Winter Solstice.
The December 21st Winter Solstice marks the shortest day of the year and, depending on where you live, this time of year can be seriously damp, dark, and miserable. Many people are affected by the gloom and lack of sunlight on those 'can't go outside days'. Island Expeditions is inviting all 'winter dwellers' to embrace and discover Belize's warm tropical waters, unspoiled coral reefs, and jungle-shrouded Mayan ruins.
Early bird sale prices are now available for Glover's Reef Nov 15, Dec 8 & 15, Ultimate Adventure Dec 13, and Paradise Islands Dec 8 & 15, 2013. Trips must be booked by September 15th for this special pricing.
Darkest Days Specials
Glover's Reef & River of Caves - $250 off November 15, December 8 & 15 trips.
7 days/7 nights, Jaguar Rescue, Crystal Cave Float, and the White Sand Cayes of Glover's Reef Atoll, a World Heritage Site and Marine Reserve. Regular: $1899 - Now: $1649.
Ultimate Adventure - $200 off December 13 departure.
9 days/10 nights. Best of Belize - Maya Mountains to Glover's Reef. Sea kayak, snorkel, hike a rainforest, paddle the Moho River, and explore Mayan ceremonial caves and remote villages. Regular: $2499 - Now: $2299.
Paradise Islands - Book the December 8 or 15 trip at $1699 and add on a 3 days/2 nights inland Adventure at 50% off the regular rates.
Paradise Islands is a 5 days/6 nights lodge-to-lodge paddling journey in the pristine waters of Southwater Caye Coral Reef Reserve.
Inland Adventures: The Maya World Extension (regular price $639) explores the fascinating Crooked Tree wetlands, New River, and ruins of Lamanai. The Rainforest Canopy Extension (regular price $539) is an exhilarating zip-line, hiking, and waterfall adventure in the Bocawina Rainforest Reserve.
Book now as space is limited at these sale rates. Call 1-800-667-1630 or email info(at)islandexpeditions(dot)com. Visit http://www.islandexpeditions.com for detailed trip information or to request a free 36 page Belize Adventure Guide.
About Island Expeditions - Leading the way to Adventure for 27 years
Island Expeditions specializes in Belize and Yucatan adventure travel, offering small group trips to special places where few others travelers go...remote coral reefs, tropical rainforests, and rich indigenous cultures. Trips provide skilled instruction in outdoor activities, as well as fun, learning, and genuine interaction with the local people. No experience is necessary and trips are suitable for all ability levels. Island Expeditions is committed to responsible tourism, conservation, and local education - supporting the Belize Zoo, the Belize Audubon Society, and other local conservation initiatives. For student groups, Island Expeditions has been offering specialized programs for high schools, colleges, and universities for over 20 years.
National Geographic Adventure Magazine rated Island Expeditions as one of the 'Best Travel Companies on Earth'.