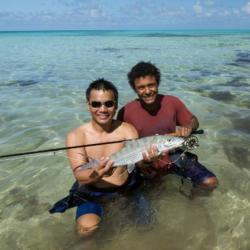 Dangriga, Belize (PRWEB) June 18, 2013
Island Expeditions, Belize vacation specialists, have announced an exciting line up of guest instructors for their upcoming trips in Belize. The expertise and coaching of skilled instructors will add to each traveler's holiday experience at no additional cost. Special departures throughout the winter season include the Glover's Reef and River of Caves January 2014 trips, where Fly-Fishing Instructor and Fishing Guide Kelly Steigman will be offering complimentary fly fishing clinics for guests.
Glover's Reef Atoll, one of the premier snorkeling and sea kayaking destinations in the Caribbean, is also a superb destination for fishing. So, for Island Expeditions it was a natural fit to line up guest Fly-Fishing Instructor & Fishing Guide Kelly Steigman to join their weekly trips to Glover's Atoll over the month of January 2014. Kelly adds another element of adventure and learning to their popular snorkeling and sea kayaking itinerary and will be providing fly rods, spin casting rods, lures, and fly tying materials and instruction.
Expansive reef flats with schools of bonefish that move in and out of the shallow waters with the tides, torpedo shaped barracuda patrolling the reef edges, schools of snapper and jacks, and silver walls of tarpon in the deeper channels make for some extraordinary fishing action. These are the reasons why Kelly has chosen Island Expeditions Basecamp at Glover's Atoll as his premiere tropical fishing destination.
Island Expeditions is always adding fun and creative activities to enhance the trip experience for their guests. Guest instructors have proven extremely popular, appealing to people's special interests and providing interesting and different options for new and returning guests.
Fly-Fishing Instructor and Fishing Guide Kelly Steigman
Glover's Reef & River of Caves
Special Departures: January 6, 13, 20, 27 - 2014
This is a great opportunity for total novices and seasoned fisher folk alike - the saltwater flats and adjoining deep waters of Glover's Reef is one of the best places in the world to fly fish for the majestic tarpon and the elusive bonefish. Kelly will provide the fishing gear and full instruction, from beginning casting techniques to advanced fly placement.
Island Expeditions' Glover's Reef and River of Caves Adventure includes a day of inland caving and wildlife adventure based out of the Tropical Education Center and Belize Zoo. Accommodations, meals, park fees, professional guides and sports instruction, plus unlimited use of kayaks and stand up paddleboards are included. Glover's Reef Marine Reserve is a World Heritage Site and considered to be one of the richest tropical marine environments in the entire Caribbean Sea.
Book now as space is limited on these special Belize vacation departures. Call 1-800-667-1630 or email info(at)islandexpeditions(dot)com. Visit http://www.islandexpeditions.com for detailed trip information or to request a free 36 page Belize Adventure Guide.
About Island Expeditions - Leading the way to Adventure for 27 years
Island Expeditions specializes in Belize and Yucatan adventure travel, offering small group trips to special places where few others travelers go...remote coral reefs, tropical rainforests, and rich indigenous cultures. Trips provide skilled instruction in outdoor activities, as well as fun, learning, and genuine interaction with the local people. No experience is necessary and trips are suitable for all ability levels. Island Expeditions is committed to responsible tourism, conservation, and local education - supporting the Belize Zoo, the Belize Audubon Society, and other local conservation initiatives. For student groups, Island Expeditions has been offering specialized programs for high schools, colleges, and universities for over 20 years.
National Geographic Adventure Magazine rated Island Expeditions as one of the 'Best Travel Companies on Earth'.