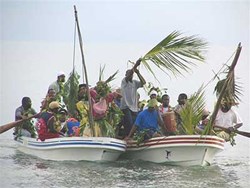 Dangriga, Belize (PRWEB) November 15, 2013
Garifuna Settlement Day is an important time of celebration throughout Belize for the Garifuna people. This special day marks the arrival of the first Garifuna in 1832, descendants of Africans, Caribs, and Arawaks who were first deported by the British from the Caribbean island of St. Vincent in 1797. 'Settlement Day', as it is known locally in Dangriga, showcases the unique Garifuna culture with a staging of the first arrival by boat to the shores of Belize by the settlers. The Festivities include parades, street music, drumming, and traditional dancing.
Island Expeditions, Belize vacation specialists, are celebrating Garifuna Settlement Day with $200 off their Belize Adventure Vacations. This sale is on November/December trips and includes departures over Thanksgiving and Christmas. Trips must be purchased by November 29, 2013.
To Book: Call 1-800-667-1630 or email info(at)islandexpeditions(dot)com. Offer is valid for new bookings only and cannot be combined with any other discounts. Limited availability – must be booked by November 29, 2013. Visit http://www.islandexpeditions.com for trip information and to request a free 36-page Belize Adventure Guide.
About Island Expeditions - Leading the way to Adventure for 27 years
Island Expeditions specializes in Belize and Yucatan adventure travel, offering small group trips to special places - remote coral reefs, tropical rainforests, and rich indigenous cultures. Trips include guided instruction in outdoor activities and are suitable for all levels.
Island Expeditions is committed to responsible tourism, conservation, and local education and actively supports the Belize Zoo, the Belize Audubon Society, and other local conservation initiatives. For student groups, Island Expeditions has been operating specialized programs for high schools, colleges, and universities for over 20 years. Rated "Best Trips" by Outside Magazine