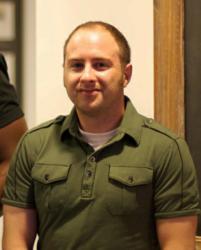 Change your thoughts and you change your world....Norman Vincent Peale
Redmond, WA (PRWEB) February 26, 2013
Steven Simon a sighted former high school wrestler and Judoka (Judo athlete) since 2009 has competed in many Judo tournaments.
When Steven discovered blind and visually impaired athletes competing at the same venues, under the same rules against sighted Judokas, the filmmaker / producer was intrigued and wanted to pull back the vale of misconceptions about blind athletes participating in sports like Judo and explore the productive, vibrant and active life styles they lead.
He didn't want to highlight Judo necessarily but used it as a thread among his film subjects. The goal is to provide insight to their daily lives and how they have overcome being blind or visually impaired continuing their journey finding employment, integrating into the community, to securing college degrees.
The Blind Judo Foundation and its two Co-Founders Willy Cahill, the former US Olympic and US Paralympic Judo Coach and Ron C. Peck, CFO and Co-Founder, were approached for examples of individuals that have created a vibrant and active life using Judo as the stepping stone.
Steven's radio interview was recently recorded by the Low Vision Bureau which is an Online Project created by a group of low vision/visually impaired people from all walks of life. Its goal is to serve and empower the low vision community in the United States.
The Blind Judo Foundation and Coach Willy Cahill are eminently qualified to meet the goal of Feeling Judo with several of their athletes that continue to inspire others and are models defying the stereotypical blind person personae. "There are many misconceptions about blind people that are varied and contradictory derived mostly from being uninformed and unfamiliar with the blind" according to Ron Peck.
The Blind Judo Foundation is a nonprofit 501 (c)(3) organization whose goal to the empower the lives of the blind and visually impaired children, young adults and our blind military men and women returning from the war zones. We are an all volunteer Board of Directors and donations are greatly appreciated. Please consider making a Donation to help support a blind or visually impaired individual get introduced to the sport of Judo.
Questions can be directed to Ron C. Peck at roncpeck(at)blindjudofoundation(dot)org or by calling 1-425-444-8256.