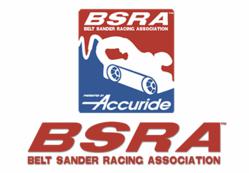 Bring your old beater sander that's on its last legs and send it off in a smash of glory. It's going to be stupid-crazy fun!
Santa Fe Springs, CA (PRWEB) April 30, 2013
Accuride announces the Crash & Smash Demolition Derby, a new competition added to the BSRA National Championship Belt Sander Race event set for Thursday, July 25, 2013 at the AWFS®Fair in Las Vegas, Nevada. The festivities begin at 4:00 p.m. in the convention center's Central Hall, booth #9746.
"This year's BSRA event is going to be a wild one," says BSRA president and Accuride representative Jamie Goodwin, "In addition to the national championship races, we're planning destruction of epic proportions with the all new Crash & Smash Demolition Derby."
Participants with sacrificial sanders are invited to participate in the head-on "Crash" segment or the "Smash" segment, where sanders will careen into a post specially designed to cause sanders to break apart. Contestants will earn prizes, with the most spectacular crash taking home a special trophy.
"The further the parts fly, the better," says Goodwin. "Bring your old beater sander that's on its last legs and send it off in a smash of glory. It's going to be stupid-crazy fun."
The National Championship Races feature speed-obsessed competitors who race stock and modified belt sanders down a 75-foot wooden track. The fastest and best-dressed sanders take home trophies and special awards presented by Accuride.
"We're expecting serious speed this year. The track record is 2.42 seconds and we have some intense competitors determined to trounce the current record," said Goodwin.
A limited number of sanders will be admitted to the championship races and Crash & Smash Derby. Those wishing to participate in either event are encouraged to register early to secure a position in the competition. For more information about Belt Sander Racing and the BSRA, event rules and regulations, or to register to compete, visit http://www.accuride.com/bsra.
The Belt Sander Championship Races are a highlight of the AWFS®Fair, with more than a thousand people packing the grandstands to see the grit—and sometimes sanders—fly. The AWFS®Fair is known as the industry's innovation marketplace, attracting thousands of woodworking professionals to Las Vegas, Nevada for in-depth, top-quality training and a broad-based look at the newest technology solutions for their operations.
About Accuride International:
For more than 50 years, Accuride International has been a leader in the design and manufacture of ball bearing slides and movement solutions for a broad range of applications across a variety of industries. Offering engineering and product design, application solutions, manufacturing expertise, and more, Accuride is a worldwide presence that can collaborate with companies in any industry, anywhere. For more information, visit http://www.accuride.com.
# # #