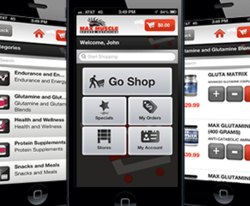 Our mobile store lets customers browse our full line of products anytime, easily stay on top of their orders, and re-orders and have their products delivered to their door. We want to make shopping Max Muscle more fun and convenient. - Colin Armbruster
Denver, Colorado (PRWEB) May 14, 2013
Max Muscle of Colorado, the leading sports nutrition retailer in the Rocky Mountain region, now offers a convenient way to order: mobile shopping. Max Muscle partnered with BusyLife Software to create the MyMaxMuscle QwikCart application, a custom branded mobile store app for on-the-go customers. The Max Muscle mobile store app has shown strong sales, with steady increases month to month, since the launch in January. The MyMaxMuscle QwikCart offers the entire line of Max Muscle Sports Nutrition supplements. Product offerings are available 24 hours a day and in real-time to ensure customers know which products are new, available, and in-stock. This free Max Muscle mCommerce application makes it easier for customers to feed their passion for healthy lifestyles.
According to Colin Armbruster, Master Franchisee for Max Muscle Sports Nutrition in Colorado, "We wanted to increase our accessibility, to encourage customers to connect with our products. Having a mobile store app that lets customers browse our full line of products anytime, easily stay on top of their orders, and re-orders and have their products delivered to their front door. We want to make shopping Max Muscle more fun and convenient."
BusyLife CEO Chris Poelma notes, "Consumers see their smartphones and tablets as essential tools that make life easier. Our QwikCart applications are built with the business' needs and the user's convenience in mind. Consumers love the convenience, and merchants love the increased sales and enhanced customer loyalty."
The BusyLife Software mobile commerce app is built with the consumer's convenience as well as the merchant's needs in mind. For consumers, QwikCart features a simple, easy-to-understand layout that incorporates several convenient features: users can select from multiple fulfillment options (pickup or delivery) and use the store locator to find their nearest Max Muscle and its hours, address, phone number, map, and directions. In addition, the app features the full Max Muscle product line—including nutrition information—and also offers special discounts.
Customers can set up a secure account with the QwikCart app and pay from their phone, allowing them to order at any time and any place and schedule a delivery or pickup. Those who select in-store pickup will find their order ready for them at the counter, with no time wasted waiting for their order to be filled.
For merchants, QwikCart offers merchants 100% phone order accuracy, and complete loyalty data. QwikCart apps increase sales, promote repeat customers, and reach a larger pool of buyers. QwikCart's technology offers retailers a branded app compatible with Apple, Google, and Microsoft mobile devices. QwikCart apps are inexpensive for merchants, with no setup, installation, integration, or maintenance fees and are completely hosted on BusyLife Software's private cloud and built and maintained by dedicated BusyLife Software engineers.
About BusyLife Software
BusyLife Software is a provider of mobile commerce solutions. BusyLife Software powers the success of merchants by providing "best in class" mobile commerce solutions which drive sales and enhance the lives of their customers. We are dedicated to the success of our merchants and a world empowered to Do More, Simply. Learn more http://www.busylifesoftware.com
About Max Muscle of Colorado
Max Muscle of Colorado is the leading Sports nutrition retailer in the Rocky Mountain region. Results Delivered… Learn more http://www.maxmusclecolorado.com
Media Inquiries:
PR(at)BusylifeSoftware(dot)com