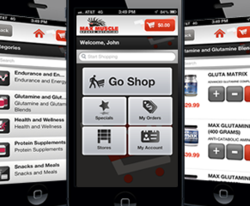 BusyLife Software is filling a critical need for retail merchants today with a complete and fully integrated mobile ordering service. And the scalable cloud hosted platform approach is seamless and meets the needs of busy merchants.
Denver. Colorado (PRWEB) April 02, 2013
BusyLife Software leads the evolution of mobile commerce with their QwikCart application and cloud hosted mobile commerce platform solution. Today, BusyLife Software announced the closing of an oversubscribed strategic funding round with participation from David Cohen and Point B Capital. The BusyLife Software QwikCart is a game changing mobile commerce solution designed for busy consumer shoppers and retail merchants. It is a unique product on the market which combines world class user design, a reliable and scalable hosted commerce platform, and seamless integration with retail Point of Sales, inventory data and pricing systems, and shipping partners.
BusyLife Software's founders and several strategic investors participated in this funding round designed to accelerate growth by increasing installation capacity to meet growing demand and expanding business development efforts for moving into new markets. In addition, these funds will allow BusyLife to increase the number of Point of Sale partners.
According to David Cohen, "BusyLife Software has a proven flexible platform well positioned to gain a leadership position in the retail mobile commerce space." The BusyLife mobile commerce platform has proven it can flexibly address the needs of any retail vertical such as restaurants (e.g. Basil Doc's Pizzeria), sports nutrition (e.g. Max Muscle of Colorado), and specialty retailers (e.g. Applejack Wine & Spirits and Bouquets Floral).
Basil Doc's Pizzeria owner Mike Miller said, "We aim to make life easier for our customers by ensuring they can order from Basil Doc's QwikCart whenever, wherever and however they like and pickup at their convenience from any of our locations."
According to Colin Armbruster, Regional Director for Max Muscle Sports Nutrition in Colorado, "Our goal with the MyMaxMuscle QwikCart is to help our customers stay on top of their nutritional supplement needs with easy mobile ordering and re-ordering from anywhere at any time. And, we offer the added convenience of in-store pickup or delivery to their home or office."
Busy consumers seek out easy to use tools to help them do more on the go. More and more, consumers are turning to mobile apps thus by-passing the use of websites. As consumers rapidly migrate from eCommerce to mobile commerce, the QwikCart offers consumers the convenience of "round-the clock" purchasing from their favorite retailers anytime and anywhere on their mobile smartphone or tablet. Consumers have access to real-time product inventory availability by store location and a choice of pickup, delivery or ship. With mobile coupons and loyalty programs shoppers receive targeted incentives and promotions tailored to their purchasing needs.
Brian Armstrong from Point B Capital sees that "BusyLife Software is filling a critical need for retail merchants today with a complete and fully integrated mobile ordering service. And the scalable cloud hosted platform approach is seamless and meets the needs of busy merchants."
BusyLife Software's goal is to deliver a market leading turnkey mobile commerce capability to retailers. The BusyLife mobile commerce solution offers merchants a dedicated and custom branded QwikCart application available on Apple iOs, Android and Windows Mobile, for smartphones and tablets covering greater than 96% of the mobile device market. The BusyLife solution's full integration with Point of Sales systems eliminates the need for back end reconciliation. The application offers a store locator and a scalable multi-store real-time inventory availability system ensuring accurate product availability and pricing. The full integration with shipping service providers ensures seamless and efficient shipping. And the Software as a Service (SaaS) cloud hosted solution provides merchants with reliable and scalable low cost operations managed by dedicated technical experts. Chris Roser from Roser Ventures sees "the Point of Sales partnerships as a competitive advantage and an excellent growth opportunity for BusyLife"
BusyLife was founded in 2011, by Chris Poelma an accomplished, forward-thinking technology entrepreneur with a wide range of skills and a track record of building innovative software solution at venture backed private companies and successful public companies. Chris previously served as CTO of Microsoft's Operator Channel leading the Global Mobile Technology Platform development efforts and the Windows Mobility direction and managed the American Operator Partnerships.
According to Chris Poelma, BusyLife Software Founder and CEO, "Mobile commerce has proven to increase sales, improve productivity, and build customer loyalty for our retail merchants. With applications like QwikCart™, we strive to create solutions that enhance the lives of consumers and increase profits for our retail merchants. Consumers love the convenience; Merchants love the sales it generates."
About BusyLife Software
BusyLife Software is a provider of mobile commerce solutions. BusyLife Software powers the success of merchants by providing "best in class" mobile commerce solutions which drive sales and enhance the lives of their customers. We are dedicated to the success of our merchants and a world empowered to Do More, Simply. Learn more http://www.busylifesoftware.com
About Point B Capital
Point B Capital is a wholly owned subsidiary of Point B. Inc. We Launch, acquire and invest in a select group of entrepreneurial businesses. Learn more
http://www.pointbcap.com
About Bullet Time Ventures
Bullet Time Ventures is a venture capital firm based in Boulder, Colorado. Bullet Time Ventures considers seed, early stage, and mid stage investments. Learn more
http://www.davidgcohen.com
Media Inquiries:
BusyLife Software: PR (at) BusylifeSoftware (dot) com