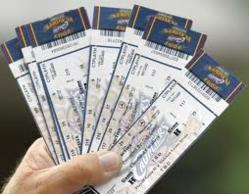 London, UK (PRWEB) February 03, 2013
The Sportsticketszz.com website has been created to help all true sports fans find the tickets they need for the biggest games and events. Tickets for the biggest sporting events can be like gold dust and cost just as much. The Sportsticketszz.com website is now here to help anyone who wants to make it to the biggest games in a range of sports.
The internet has had a huge impact on the ticketing industry and not all of them have been positive. While the days of fans being fleeced by scalpers selling tickets outside stadiums and sports arenas have largely gone, the problem has now moved online. With a large percentage of sports tickets being sold exclusively on the net, tickets are much easier for people to get hold of. This means that people who have no interest in attending the game can just as easily apply for and get tickets as true fans.
This has helped to create a huge "secondary" market for tickets where they sell for many times their face value. While secondary markets and exchanges such as those operated by StubHub, Ticket Master and Viagogo are safe, well organised and well run, many fans still end up paying well over the odds for the tickets they want. While some of the people using these sites are happy to let their tickets go for the price they paid, many others see them as a way to make a quick buck for doing very little.
The sportsticketszz.com website has been created to help all true sports fans get the tickets for the games they want without breaking the bank. It offers advice on how to buy sports tickets for some of the biggest sporting events in the US and Europe such as the NFL, MLB, 6 Nations rugby, Wimbledon and the Champions League. With a little careful planning and some help and advice from sportsticketszz.com there is no need to pay over the odds for any sporting event again.
About Sportsticketszz.com
The site has been created by true sports fans to help other sports fans get the tickets the want for the biggest games. Offering guides on how and where to buy tickets it is an essential site for anyone who wants to get to the big game.