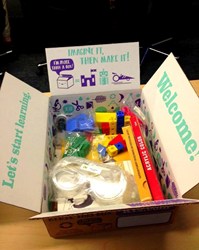 When that box of school supplies arrived, our kids immediately opened it, excited to explore what's coming for the school year.
(PRWEB) August 05, 2013
California families are back to school shopping earlier than ever this year, but fourth grader Jett Ropke and his mom Jennifer haven't even given it a thought. Instead of joining the crowds, their family and other students at California Virtual Academies (CAVA) and Insight School of California—Los Angeles (Insight) are kicking back in their living rooms waiting for their school supplies to be delivered to their doorsteps.
As tuition-free, full-time online public charter schools, CAVA and Insight send students all the supplies they need at no cost to families. With CAVA and Insight's highly individualized curriculum for each student, a back-to-school box could include a variety of items: geometry workbooks; petri dishes for hands-on science experiments; rock samples for a geology class; or materials for classes that are increasingly disappearing from some traditional schools, such as world languages and art.
These hands-on materials supplement CAVA and Insight's innovative digital learning platforms. Students work with California-credentialed teachers and log in daily to their Individualized Learning Programs, complete with planning and progress tools, interactive lessons featuring animation and video that make learning come alive.
"When that box of school supplies arrived, our kids immediately opened it, excited to explore what's coming for the school year," said Jennifer Ropke. "Each one of my children has a different learning style, and at CAVA, they really have a chance to excel at the things that interest them most, but can take the time they need to work on the subjects that are more challenging for them."
CAVA and Insight offer California students a choice to receive a more customized and flexible education. Students who move at a faster pace than the rest of the class or who get lost in the shuffle of a traditional classroom setting can access CAVA and Insight's California-credentialed teachers and award-winning curriculum tailored to their specific needs. Instruction is mastery-based which means school can be adapted to each child's learning style, rather than the other way around.
"Parents always tell me how much they welcome the box of supplies that comes at the beginning of the year," said CAVA teacher Erica Corioso. "Working with their children at CAVA gives them the great opportunity to be deeply involved in helping their children thrive, but they still have clear guidance and planning from a teacher like me, and support from a vibrant school community."
Families who have been seeking educational choices different than the neighborhood school down the street are discovering the benefits of online school at CAVA and Insight. With the right education, a comprehensive learning plan that includes individualized and realistic objectives for each child, students can reach their full potential and realize success.
More about CAVA and Insight
California Virtual Academies and Insight School of California—Los Angeles are full-time, fully accredited online public charter schools. CAVA serves students in grades K through 12, and Insight serves students in grades 9 through 12. As part of the California public school system, they are tuition-free, giving parents and families the choice to access the award-winning curriculum and tools provided by K12 Inc., the nation's leading provider of proprietary curriculum and online education programs. For more information about CAVA, visit http://www.k12.com/cava . For more information about Insight, visit http://www.insightcala.net.