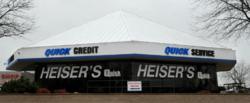 As the economy improves, we've recently put more people into the car of their dreams sooner than they expected
Milwaukee, Wisc. (PRWEB) February 07, 2013
Heiser's Quick Motors is proud to offer a timely deal to help customers get into their next set of wheels quicker. Now through February 28, 2013, during their "Double Your Tax Refund Sales Event," they will match individual's tax refunds up to $1,250 to put towards a down payment. The used dealership also works with over 50 lending companies to find loans for hard-to-finance prospects at the best auto loan rates available.
Quick Motor's NeedCarCredit.com program has successfully helped people in the community get auto loans for bad credit. Regardless of past credit history, the Heiser "Anything is Possible" philosophy has eliminated many of the worries usually associated with finding the funds to get a reliable car, truck or SUV. The Milwaukee dealership has over five hundred pre-owned vehicles to choose from, for every budget level.
"As the economy improves, we've recently put more people into the car of their dreams sooner than they expected," said family owner, Mary Ann Scaffidi. "We're excited to be here on North 76th Street, offering to help customers get more for their money," Ms. Scaffidi continued. Heiser operated Northpoint Ford on 76th Street, the #1 Ford dealership in Wisconsin for many years.
Guaranteeing a quick appraisal, application and approval process, Quick Motors is now offering the bonus of a doubling of your tax refund. Use the car financing calculator on the site to determine your monthly payment. Allowing up to $2,500 towards a down payment, this limited-time program comes just once a year. It will certainly bring more drivers into newer vehicles, with reasonable loan payments they can handle.
Those interested are urged to call (414) 577-1660 to arrange an appointment for a test drive. Or, a visit to their website: http://www.heisersquickmotors.com will bring all the details of the sales event program. Clients can also "Like" the dealership on Facebook for exclusive deals before a visit. Or, discover rewarding check-in specials onsite via Facebook, Yelp, Google+ and Foursquare.
About NeedCarCredit.com:
Needcarcredit.com specializes in helping people with bad credit buy their next car, even if they have a history of bankruptcy. A leader in the metro Milwaukee area, they also serve the entire Wisconsin and Illinois markets.
About Heiser Automotive Group:
Heiser Automotive Group was established 95 years ago in Milwaukee. It prides itself on its dedication to excellence in customer sales and service. With a motto, "Anything is Possible", all employees strive to provide value every day in the community they serve. Visit them at http://www.heiser.com.