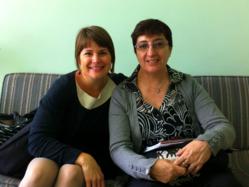 I look forward to continuing to build CFHI's positive impact on communities abroad, helping elevate and invest in the expertise of local communities and native health practitioners.
San Francisco, February 25, 2013 (PRWEB) February 25, 2013
Child Family Health International (CFHI) announced Jessica Evert, M.D. as Executive Director of the organization. Dr. Evert succeeds Interim Executive Director Mirriam Rafiq Braden, MPH who steered the organization for 9 months. In her new role, Dr. Evert will guide CFHI's community-based Global Health Education Programs for health professions students and academic institutions.
CFHI is a nonprofit that fosters programs in clinical and public health settings for undergraduate and graduate students in health-related fields, placing them in poverty stricken communities in Latin America, India, and South Africa. The organization's unique model fosters reciprocal partnerships and empowerment in local communities -- transforming perspectives about self, healing and global citizenship.
As Executive Director, Dr. Evert will work with local physicians and nurse practitioners in each CFHI partner community to collaboratively develop educational competencies and curriculum for programs. Additionally, Evert aims to expand partnerships with academic institutions and increase the organization's advocacy for social responsibility in global health education. CFHI's approach prioritizes fair compensation and recognition of local practitioners who act as mentors. These practitioners have significant impact on the personal and professional growth of visiting students from developed countries such as the US.
"I am delighted to hear Dr. Evert was named Executive Director of CFHI. She is the right person at the right time for this challenging but very important job. CFHI provides an array of quality global health field experiences that meet the needs of students, residents, and university programs. I've worked with Dr. Evert on various projects over the past decade and continue to be amazed with her productivity. With a wealth of relevant experience, boundless energy, and myriad connections in the US and overseas, she will do very well," said Thomas Hall, MD, DrPH, Co-Founder of Global Health Education Consortium, now merged with Consortium of Universities for Global Health.
Dr. Evert has served as Medical Director of CFHI since 2009 and played an instrumental role in strengthening their safety policy and procedures for students. She has worked with both global health and study abroad communities to advocate for standards to optimize learning and ensure safety for patients and participants in international health settings.
"I am thrilled to have the opportunity to work with CFHI in a new capacity. I know from personal experience that the first-hand knowledge one gains from being in resource-constrained settings is transformative. It makes us better health care providers and global citizens. I am proud to be a part of CFHI- an organization which challenges assumptions about communities in developing countries. Through CFHI students learn that these communities may not be resource rich, but they abound in passion, ingenuity, and resourcefulness," said Evert. "I look forward to continuing to build CFHI's positive impact on communities abroad, helping elevate and invest in the expertise of local communities and native health practitioners."
Evert is a physician and Clinical Faculty in the Department of Family and Community Medicine at the University of California, San Francisco, where she completed the Global Health Clinical Scholars Program. Evert is a graduate of the Ohio State University College of Medicine, where she received awards for service and academic excellence. She is a longtime advocate for global health education quality and ethical standards. She has authored lay and academic articles on global health and ethics in medical education.
###
Founded in 1992, CFHI (http://www.cfhi.org) is a non-governmental organization (NGO) operating at the grassroots level to provide transformative global health education experiences and community empowerment in underserved communities around the world. CFHI offers 20+ Global Health Education Programs designed to broaden students' perspectives about global health - as well as a variety of community health initiatives and projects - in developing countries including Argentina, Bolivia, Ecuador, India, Mexico, and South Africa. More than 7,000 students have participated in CFHI programs to date. CFHI is an NGO in Special Consultative Status with the Economic and Social Council of the United Nations (ECOSOC).