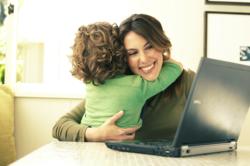 Many parents decide to pursue online education for their children.
Herndon, VA (PRWEB) April 09, 2013
Parents seek online schools for a variety of reasons. Dr. Margaret Jorgensen, Chief Academic Officer for K12 Inc., the largest provider of technology-powered individualized learning states, "Many parents decide to pursue online education for their children because it offers the kind of flexibility and individualized approach that can help children flourish academically."
Online schooling differs from traditional schools in that classes do not take place in a building, but rather at home, on the road, or wherever an Internet connection can be found. Students typically take courses online from their teachers via web classes, with added instruction by phone and e-mail, plus support from a parent or other responsible adult.
To help gauge whether online schooling would be a good fit for a family, the company has made available a free, fast interactive tutorial.
According to Dr. Jorgensen, along with taking the "Is Online Learning Right for You?" tutorial, here are the Top 5 Ways to Know if Online School Is Right for You:
1. Your child is an accelerated learner: The individualized program allows accelerated learners to rapidly advance through material versus waiting for the class to catch up.
2. Distractions in a traditional classroom setting make learning difficult: Children who have learning challenges such as ADD and ADHD may find it difficult to learn material in a traditional classroom. Online schooling in a calm, at-home setting can help children with learning challenges thrive; as does the dynamic nature of the K12 curriculum. "At K12, we believe in rich, engaging content that gets kids into learning so learning gets into them," adds Dr. Kristen Kinney-Haines, a colleague of Jorgensen's and Director of Primary Literacy at K12.
3. Your child is uncomfortable in his/her current school environment: According to Jorgensen, Kinney-Haines, and many other experts, bullying in schools is a real and growing problem. Whether your child is being bullied, feels driven to bully, or just senses that he or she doesn't fit in, online schooling can allow your child to learn in a safe and nurturing environment—home.
4. Your child's dreams and activities require a flexible schedule: Whether your children have artistic aspirations or dreams of making it big in sports, individualized learning that comes with online schooling allows kids to have flexible schedules and thoroughly pursue additional endeavors. "Star" athletes and performers who value a top-notch education often opt for online schooling that allows time for practice and travel to events. For instance, K12 iCademy student, June Lee, has chosen Harvard to continue rigorous academics and pursue her tennis career.
5. Your child is physically unable to attend school: If your child is physically unable to attend school due to a medical condition or any other reason, online schooling provides the academic flexibility many homebound students need to succeed and thrive. Many school districts are expanding their homebound education offerings.
About K12 Inc.
K12 Inc. (NYSE: LRN) is leading the transformation to individualized learning as the nation's foremost provider of technology-powered online solutions for students in pre-kindergarten through high school. K12 has worked with more than 2,000 school districts and has delivered more than 4 million courses over the past decade. K12 provides curricula, academic services, and learning solutions to public schools and districts, traditional classrooms, blended school programs, and families. K12's curriculum is rooted in decades of research combined with 21st-century technology by cognitive scientists, interactive designers, and teachers. K12's portfolio of more than 700 unique courses and titles—the most extensive in the technology-based education industry—covers every core subject and four academic levels for high school, including Honors and AP. K12 offers credit recovery courses, career-building electives, remediation support, six world languages, and a deep STEM offering. The K12 Program is offered tuition free through K12 partner public schools in more than two-thirds of the states and the District of Columbia, and through private schools serving students in all 50 states and 85 countries. More information can be found at K12.com.