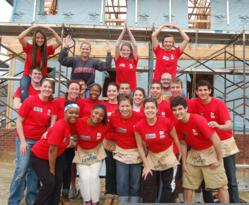 Greensboro, NC (PRWEB) February 21, 2013
Habitat for Humanity of Greater Greensboro will host students for three weeks in March from Ohio State University, Eastern University, and The University of Massachusetts during their spring break to help build or rehabilitate homes for families in need of affordable housing. The collegiate students are participating in Habitat for Humanity's national alternative break program, Collegiate Challenge.
"The groups we've had in the past have done excellent work and had fun during their time with us," said Kerry Sparks, Habitat for Humanity of Greater Greensboro. "And it's a powerful experience for the students, too."
Students from Eastern University will build during the first week of March, followed by students from The Ohio State University. A group from the University of Massachusetts will complete the final week of Collegiate Challenge.
During their designated week, each group will work at the construction sites, building side-by-side with future homeowners, staff and other volunteers. They'll also have plenty of time to learn about Habitat for Humanity and to explore Greensboro. They'll also serve dinner to the homeless at the weekly Hot Dish & Hope meal at First Presbyterian Church.
For the past 24 years, more than 208,000 students have spent their school breaks volunteering across the country through Habitat for Humanity's Collegiate Challenge program, donating more than $20 million to Habitat affiliates.
"We're grateful to Habitat for Humanity of Greater Greensboro for hosting the students as part of Collegiate Challenge," said Jenn Skudlarek, Habitat for Humanity International's manager of U.S. volunteer programs. "Their work together makes a meaningful difference and will have a lasting impact in communities across the country."
The Collegiate Challenge program is one of the many programs Habitat has to engage youth ages 5 to 25 in Habitat's work. In addition to the ongoing support State Farm® offices provide to local Habitat affiliates across the United States, State Farm has served as the national corporate sponsor of Habitat for Humanity's youth programs since 2007.
About Habitat for Humanity of Greater Greensboro
Habitat Greensboro was formed in 1987 by four Christians in response to their Habitat experience in Peru. Twenty-five years later, Habitat Greensboro has expanded to almost 5,000 volunteers and 30 staff who build, renovate and provide critical repairs to 30 to 35 homes each year.
About Habitat for Humanity International
Habitat for Humanity International is a global nonprofit Christian housing organization that seeks to put God's love into action by bringing people together to build homes, communities and hope. Since 1976, Habitat has served more than 600,000 families by welcoming people of all races, religions and nationalities to construct, rehabilitate or preserve homes; by advocating for fair and just housing policies; and by providing training and access to resources to help families improve their shelter conditions