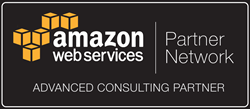 We strive to provide our customers with the most successful outcomes possible with cloud computing strategies, migration and solutions with our 0-Downtime Cloud Solutions. - Karthik Natarajan, Executive Vice President of Compunnel
Plainsboro, New Jersey (PRWEB) November 05, 2013
Compunnel Software Group, Inc., a leading business technology services company with a highly popular custom cloud solutions and managed services practice, 0-Downtime, announced today that it has achieved the Advanced Consulting Partner status of the Amazon Web Services Partner Network (APN). Reaching this level in the APN provides recognition for Compunnel's commitment to providing effective cloud computing consulting, deployment and support solutions to its customers on the Amazon Web Services (AWS) platform.
"At Compunnel, we strive to provide our customers with the most successful outcomes possible with cloud computing strategies, migration and solutions with our 0-Downtime Cloud Solutions", said Karthik Natarajan, Executive Vice President of Compunnel. "We are pleased to achieve Advanced Consulting Partner status in the APN. Amazon Web Services works extremely well as a solid cloud platform and approach to deploying a diverse set of applications in the cloud."
AWS provides a complete set of infrastructure and application services to give organizations a robust and highly reliable environment. The APN includes qualified technology and consulting partners that help customers of all sizes and sectors to build, deploy, migrate, run and manage applications on AWS.
Leveraging and supporting AWS, 0-Downtime provides professional cloud solutions and managed services to organizations of all sizes across numerous industries. Backed by years of experience in successful cloud implementations with customers across numerous industries, cloud solutions from 0-Downtime provide an extensive range of highly tailored cloud technology development and management services, a strong team of deep cloud and IT experts and a proven track record in helping businesses address a wide range of cloud deployment and cloud maturity needs.
Cloud Solutions from 0-Downtime help businesses strategize, plan, design, adopt, change and expand cloud in public, private and cloud deployments and provide end-to-end solutions, including integration with existing systems. 0-Downtime's team of business and IT experts help customers at every step using processes and best practices perfected over years of experience in successful customer outcomes delivering cloud implementations and custom development services.
Through the use of AWS infrastructure, application services and effective cloud implementations, 0-Downtime helps customers unleash tremendous flexibility and cost optimization along with performance, scalability and responsiveness improvements.
To learn more, email us at contactus(at)compunnel(dot)com, call us at 609-606-9980 or visit us on the web at http://www.0-downtime.com.
About Compunnel
Compunnel Software Group, Inc. is a leading global business technology services company. Recognized for our comprehensive portfolio of technology services and outsourcing solutions, we combine extensive industry knowledge with highly tailored application development and information management services. Unified in our deep focus on making customers successful, our global workforce serves as an integrated extension to your business to help you achieve greater agility, speed and significant cost savings. For 20 years, we have invested in developing exceptional engineering and management talent equipped to achieve superior customer outcomes. Compunnel is a preferred solutions provider to more than 1,000 organizations, including 25% of the Fortune 500 companies.
Application Development I Cloud Solutions I Business Intelligence I Learning Solutions I IT Staffing
2013 Compunnel Software Group, Inc.