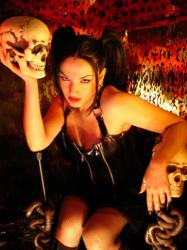 Once you don't care why someone looks for motorcycles you can actually get them to start.
New York, NY (PRWEB) January 08, 2013
Count Motorcycles, LLC has come up with a new game aimed at increasing motorcycle awareness. The game is a new concept in motorcycle awareness messaging that does what is thought to be impossible – get people to see motorcycles. The Count Motorcycles game and CountMotorcycles.com will be premiering at the New York Progressive International Motorcycle Show with on–air personality "Mistress" Juliya Chernetsky at the Jacob Javits Center January 18, 19 and 20, 2013.
Dave Accetta, creator of the game says, "I commute by motorcycle in and around New York. I saw a need for something more effective in promoting motorcycle awareness. I drew upon my experience in advertising and public service announcements to devise a new approach.
"My philosophy is different. Motorists look at you on your motorcycle as the one with the most to lose. They aren't going to give you any special consideration just because you are on a bike. They feel your choice is your problem. They don't want to hit you, but they aren't going to work harder for you either. Any extra effort will be for themselves.
"We at Count Motorcycles believe it has already been proven that you can't go head to head with that kind of logic, so we go around it. Once you don't care why someone looks for motorcycles you can actually get them to start."
Count Motorcycles, the game, accomplishes this by introducing a simple competition out of looking for motorcycles. It plays on people's natural inclination to be competitive and play games to make people aware of motorcycles. The website, CountMotorcycles.com, simply provides the game's rules, point structure and a few "hints." Very little is said about motorcycle safety or statistics. Instead, the focus is on a quick set of rules and how points are awarded with suggestions to play "Punch-Buggy" style or to tally points at the end of a drive. By arranging the website this way, counting motorcycles is seen as fun and not a passive safety message.
Dave says, "When people play the game they are finally actually looking for motorcycles.
"My dream," he continues, "is that somewhere in future there is a mini-van full of kids or a carload of teens playing the Count Motorcycles game, pointing out motorcycles to the driver and competing to be the first to do it."
For the premiere, former Fuse TV presenter "Mistress" Juliya Chernetsky will be dressed as a "Goth" umbrella/grid girl complete with motorcycle and backdrop for photo ops with fans and show attendees.
Count Motorcycles, LLC will offer bumper stickers, bumper magnets and window clings for concerned motorcycle riders to help promote the game and, most importantly, their own safety. Merchandise will be offered to individuals and in bulk to dealers and distributors. Future plans include a Facebook game, a children's travel game and apparel. The website will be unveiled and branded merchandise will be available at the show.