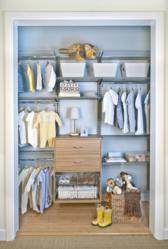 With two versions of design software, we can help two very different audiences organize their homes.
Cincinnati, OH (PRWEB) June 05, 2013
Organized Living, a leading manufacturer of home storage systems, announces the debut of Design Your Own; a customizable, easy to use, online closet design software available at OrganizedLiving.com. The new software streamlines the organizing process by allowing users to create custom home storage solutions from scratch, plus share, save and purchase them.
Design Your Own software provides proof that custom doesn't need to be complicated. Designs are easy to create and do not require any degree of design experience. It also gives users more design control and allows them to create versatile storage solutions for any space, from closets and pantries to offices, mudrooms and more.
Design Your Own provides more freedom for consumers to design from their favorite devices including PCs, iPads and tablets. Here's how it works:

Select layout. Choose from either reach in or walk in options.
Enter measurements.
Create a design from an easy "drop and drag" menu.
Save the design.
Email designs to a dealer or contractor.
Or, print their designs along with custom instructions to take to their dealer.
They can even order online, it's that easy!
With the addition of Design Your Own, Organized Living now offers two design solutions to meet the needs of any consumer. The Select Your Own software launched in 2009 and provides hundreds of pre-designed storage solutions based on specific measurements.
"With two versions of design software, we can help two very different audiences organize their homes. Select Your Own caters to those who need expert design help and would typically go to a store for design consultations," said Jennifer Castenson, vice president of marketing for Organized Living. "Instead, consumers can see expert design suggestions from the comfort of their home. Design Your Own, on the other hand, caters to those who require more design customization and want to be more involved in the process. They can easily create custom designs for their home in just a few simple steps."
Visit OrganizedLiving.com to create a custom space using Design Your Own and to learn more about Organized Living's full-family of home storage products.
About Organized Living
Organized Living brings superior storage and organization to the world through strong products, strong people and strong brand, helping people organize their lives. From the closet to the kitchen to the garage, Organized Living offers high-quality, innovative storage and organization products that make everyday life easier and sells through professionally installing dealers, retailers and online retailers. http://www.OrganizedLiving.com.
###