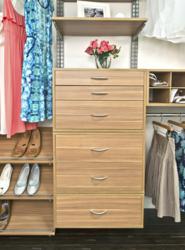 Design Your Own makes it easy for our clients to have the closet of their dreams.
Cincinnati, OH (PRWEB) June 06, 2013
Organized Living, a leading manufacturer of home storage systems, announces the debut of Design Your Own; a customizable, easy to use, online custom closet design software available at OrganizedLiving.com. The new software streamlines the design process for professionals to help them save time and money. It gives them freedom to create custom storage solutions from scratch, plus share, save and purchase them.
Design Your Own provides professionals with a new opportunity for additional profits. They can create versatile storage solutions throughout their clients' homes; from closets and pantries to offices, mudrooms and more.
The software is easy to use and puts them in control. It adapts to any device and can be used on PCs, iPads and tablets. This versatility allows professionals to work from home, a client's home or offsite meetings. Here are some key benefits:

Builders, contractors and professional organizers can save multiple designs for their clients.
Professionals can load previous designs to make edits for their clients.
Designs are quick to create using a simple "drop and drag" menu.
They can be emailed to their clients for review.
Design images are attractive 3D renders to help clients visualize their storage spaces.
Once designs are complete, professionals can email them to their local dealer to make a purchase.
They can even order online, it's that easy!
With the addition of Design Your Own, Organized Living now offers two design solutions to meet the needs of any trade member. The Select Your Own software launched in 2009 and provides hundreds of pre-designed storage solutions based on specific measurements. Design Your Own, on the other hand, caters to those who require more design customization.
"Design Your Own is incredibly helpful for my business. It provides clients with additional resources to find the perfect freedomRail solution for their closet," remarked Amanda LeBlanc, professional organizer for The Amandas and Organized Living dealer and spokesperson. "Creating organized spaces with functional systems is important to the success of The Amandas and our clients. These spaces are personalized through the versatility of freedomRail, fitting the individual needs of each of our clients and their unique personality. Design Your Own makes it easy for our clients to have the closet of their dreams. The best part is; they love us for it!"
Visit OrganizedLiving.com to create a custom space using Design Your Own and to learn more about Organized Living's full-family of home storage products and services for professionals.
About Organized Living
Organized Living brings superior storage and organization to the world through strong products, strong people and strong brand, helping people organize their lives. From the closet to the kitchen to the garage, Organized Living offers high-quality, innovative storage and organization products that make everyday life easier and sells through professionally installing dealers, retailers and online retailers. http://www.OrganizedLiving.com.