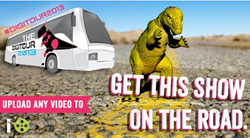 (PRWEB) September 25, 2013
VidioVibe and the The Digitour 2013 are looking for great videos - a vlog, music, comedy, or basically any type of video. Make sure the video is under the five minute limit and has some quality content. The judges panel will pick the best video to win the tickets to one of the Digitour shows along with some DigiTour Swag. The Digitour is stopping in Chicago on Oct 3, Toronto on Oct 4, Philadelphia on Oct 5, and New York City on Oct 6.
Videos must be uploaded by 5 p.m. Pacific Standard Time on Sunday, Sept. 29, and fan voting has already started. The judges winner will be announced on September 30, while the fan favorite has until October 6 to gather ratings.
Want to win the cash? Push the video out to friends and get some ratings. The highest rated video will win $250 cash. Visit http://www.vidiovibe.com for all the contest details.
About Vidi Entertainment:
Vidi Entertainment, Inc is an innovative technology company that focuses on developing dynamic, video-based entertainment websites and mobile applications.
About Digitour 2013
The DigiTour 2013 is nationwide, large scale YouTube tour, featuring the top musically, comedy and vlog inclined YouTubers.