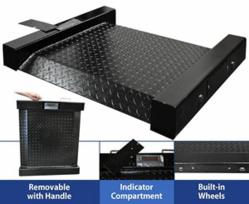 DIGIWEIGH scales are made for regular people – not just millionaires!
(PRWEB) June 27, 2013
For over ten years now it has been Digiweigh's mission to offer high quality digital scales that are also affordable.
As an Original Equipment Manufacturer (OEM) for major US & European brands Digiweigh built millions of digital scales such as drum scales, floor scales, pallet scales and more. These were trusted for their dependability the world over.
These scales though, were mainly used by big businesses because the scales were quite expensive. The smaller businesses could not afford them. This is when Digiweigh let the world in on a big secret. It is not expensive to build a high quality accurate, reliable and dependable digital scale.
And since then there has been no looking back. Digiweigh launched its range of high quality digital scales such as floor scales, drum scales, counting scales, shipping scales and more which were affordable. Small businesses could now buy scales that till recently only large corporates could afford. The word spread fast and Digiweigh has since become a well known and preferred name for quality digital scales.
And in keeping with Digiweigh's commitment to offering their customers a great experience they have now launched their online store on their tenth anniversary. It is now easier than ever for a business to buy a Digiweigh scale. Scales can be chosen conveniently on the thoughtfully designed online store and bought confidently at a great price. As a special offer to celebrate the tenth anniversary there are no shipping charges to 48 states.
DIGIWEIGH is a leading manufacturer of digital scales. Its patented DW BRIDGE software enables connecting your scales to your computer system. In fact, you can make the connection using a hard wired or a wireless routing option. You get an efficient and reliable weight measurement solution.
Such offerings have established a reputation for an affordable high quality value proposition. Many of their clients affirm that, "Digiweigh scales are made for regular people – not just millionaires!"
They have succeeded in making high quality scales accessible to all businesses, big and small. These scales are sold online by several other retailers too. You can buy popular Digiweigh floor scales and other digital scales at these stores as well.