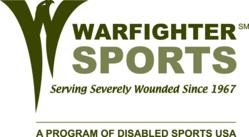 "Warfighter Sports is simply a wonderful program that we are proud to support for a third year. The public can visit any of our car wash or oil change facilities through Father's Day."- Joseph Solis, Wash Depot, Director of Marketing
Rockville, MD (PRWEB) May 13, 2013
Disabled Sports USA is proud to announce its continued alliance with Wash Depot Holdings, Inc. to raise monies for its Warfighter Sports rehabilitation program. The program serves severely wounded warriors from Iraq and Afghanistan in military hospitals and communities across the United States through DSUSA's nationwide network of over 100 community sports chapters.
Wash Depot Holdings, a national car wash company that markets under multiple car wash brands including Simoniz® and Sparkling Image® is once again pledging proceeds from its semi-annual wash book promotion. Wash Depot's goal is to exceed last year's proceeds of $70,000 for the Warfighter Sports program. Proceeds pay for the direct costs of providing adaptive sports equipment and individual instruction; plus travel, lodging and food costs for the wounded warriors.
"We are thrilled to be partnering with the Wash Depot Team for a third year," stated Kirk Bauer, JD, Executive Director of Disabled Sports USA and a disabled Vietnam veteran. "Wounded warriors go through a very difficult time. Sudden, traumatic change in physical ability makes service members vulnerable to psychological and emotional, as well as physical trauma. Participation in sports helps them regain their confidence and fitness that will enable them to rebuild their lives."
Wash Depot's Director of Marketing, Joseph Solis, echoes Bauer's enthusiasm. "Warfighter Sports is simply a wonderful program that we are proud to support for a third year. The public can visit any of our car wash or oil change facilities through Father's Day, June 16th and we'll donate proceeds from the sale of wash books and oil change gift certificates."
For the nearest car wash location, visit Wash Depot online http://www.CleanCarFeeling.com.