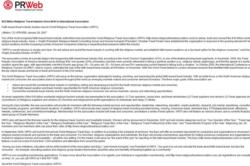 "Domain theft is the hijacking of your website. It's tantamount to identity theft. Once your website is stolen, so is your company's identity," said Kevin J. Wright, WRTA's founding owner and domain theft victim.
Lexington, KY (PRWEB) May 07, 2013
Domain name theft destroys companies, people's lives and entrepreneurs' dreams, cautions Kevin J. Wright. His first hand experience of the devastation wrought by domain theft has spurred him to outspoken attempts to educate business owners about the threat and help them protect themselves. Wright has launched a resource for victims of domain theft at http://www.StopDomainTheft.com, as well as a YouTube Channel http://www.DomainTheftVictims.com. Wright also plans to raise awareness of domain theft issues through published writings and speaking engagements.
Wright is past president of the World Religious Travel Association (WRTA), the voice of the $18 billion faith-based tourism industry. Wright watched helplessly as the organization became a victim of domain name theft, email interception and cyber squatting. Domain thieves led to the organization's Chapter 7 bankruptcy filing in January 2011; liabilities exceeded $350,000 and impacted the lives and finances of staff, suppliers, creditors and stakeholders. As a result of these devastating consequences, Kevin J. Wright, is now speaking out on behalf of domain theft victims everywhere and raising urgent awareness of the issue.
"Domain theft is the hijacking of your website. It's tantamount to identity theft. Once your website is stolen, so is your company's identity," said Kevin J. Wright, WRTA's founding owner who suffered the financial consequences of domain theft as a victim. "My mission is to publicize this very destructive and novel form of business theft, because it's getting worse. I hope to decrease the number of victims and hold cybercriminals accountable."
Domain name theft occurs with regularity, according to industry experts and a 2007 The Wall Street Journal article. Small businesses and aspiring entrepreneurs are among the most vulnerable victims. Domain thieves are often insiders, including rogue employees, shareholders or contractors, but can also be organized cybercriminal groups. Generally they seek financial gain by selling the stolen domain or by extorting the rightful owner. Other motivations may include desire to financially harm a business (often a competitor), take revenge against an employer, steal clients or gain increased revenues and exposure through promotion of one's own products and services on a stolen website.
Enrico Schaefer, trial attorney and Internet law expert of Traverse Legal, writes at ezinearticles.com: "URL theft by a partner or co-owner is perhaps the most common example of domain name theft. Domain names stolen in this fashion account for about 25% of the calls and emails we receive in the domain theft area."
July 2013 marks the second anniversary of the first known criminal conviction of a domain thief in the United States, New Jersey resident Daniel Goncalves was sentenced in 2011 to five years in prison for stealing the domain name P2P.com from Internet entrepreneurs Marc Ostrofsky, Albert Angel and Lesli Angel and selling it on eBay.com for more than $110,000.
"In our effort to redress the injuries inflicted on us we came to appreciate how undeveloped this area of the law is, and how victims of domain theft face an unmarked and totally uphill battle to get a remedy," said Albert Angel, one of Goncalves' victims. Angel is an attorney and former Dept. of Justice prosecutor.
Wright is committed to ensuring his new efforts not only help business owners realize the scale of the problem, but also law enforcement and lawmakers.
About Kevin J. Wright
Kevin J. Wright is an intrapreneur, entrepreneur, author, consultant, speaker, blogger and well-known authority in the tourism industry. As an entrepreneur and founder of the World Religious Travel Association (WRTA), Kevin experienced firsthand the devastating consequences of domain name theft and seeks to raise awareness of this very destructive, novel and growing form of business theft. As a travel industry expert, Kevin has been interviewed by CBS The Early Show, TIME Magazine, USA TODAY, The Wall Street Journal, The New York Times, National Geographic, NPR, Sirius XM Satellite Radio, Forbes Traveler, The Los Angeles Times, Boston Globe, CBC News, London Times, Arabian Business and dozens of other media. Kevin is the author of four published guidebooks and has traveled to 30-plus countries and spoken at tourism events throughout the USA and in Canada, Jordan, Puerto Rico, Bahamas, South Africa, Turkey, Armenia, and Dubai.