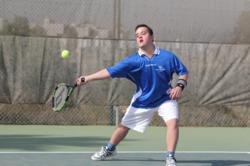 thanks to the Israel Tennis Centers my son has become more disciplined, confident and sociable
New York City, New York (PRWEB) April 16, 2013
In a ceremony commemorating Israel's 65th anniversary, the Israel Defense Forces honored Elad Gevandschnaider, 24 years old, with its Award of Excellence. Elad, a soldier in the Israeli Army, has Down's Syndrome, and points to his last six years as an active player at the Israel Tennis Center - Beer Sheva as instrumental in helping him to serve his country.
ITC's social impact programs, including those for developmentally challenged and physically handicapped children, have significantly improved the lives of many participants like Elad. Children in the program benefit from a structured physical routine in the company of caring and professional coaches. Once introverted and without any direction, the ITC experience dramatically changed Elad's life by teaching life skills that have been invaluable on and off the court. Not only has Elad won multiple Special Olympic medals around the world, he was also the first player with special needs to travel to the United States and represent the Israel Tennis Centers by participating in exhibition matches to raise funds.
Elad's father, an immigrant from Poland, proudly reflected on how much Elad had changed, thanks to the Israel Tennis Centers. "My son has become more disciplined, confident and sociable." ITC International President, Larry Greenspon, from Chicago agreed, noting that "since Elad started playing at the ITC in 2004, he has become an independent young man, traveling to the center by bus, competing in many Special Olympics tournaments across the world and winning Gold medals. Building independent life skills is an important goal for all young adults, especially for those like Elad, where the acquisition of such skills is best taught through real world experiences."
Emotions ran high during the 65th IDF anniversary event, as the overflow crowd applauded for all of the award recipients, saving its loudest cheering for their very special soldier with Down's Syndrome, Elad. The thunderous ovation did not stop until the Brigade Commander walked over to personally congratulate Elad for his achievement. Following the ceremony, it was announced that Elad's parents had dedicated his award to the Israel Tennis Centers in recognition of the tremendous impact that the ITC has had on his life and thousands of other young people over the past 36 years.
About the Israel Tennis Centers Foundation:
The Israel Tennis Centers Foundation (ITC) is a 501 (c) 3 not-for-profit organization that has worked for over 36 years to enhance the social, psychological, and physical development of Israeli youth through the medium of sport. Most ITC Centers are located in disadvantaged neighborhoods or outlying development towns throughout Israel, from Kiryat Shmona on the Lebanese border in the North to Beer Sheva bordering the Negev Desert in the South. There are 21,000 children in the program.
Contact:
David W. Lippy (614) 939-1533 or cell (614) 554-9235
DLippy (at) insight.rr.com
Jacqueline Glodstein, VP Global Development
(646) 884-7450