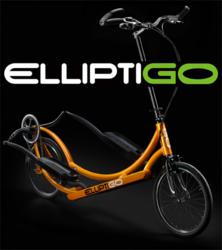 Carlsbad, CA (PRWEB) April 16, 2013
2012 USA Masters Cross Country Champion, Christian Cushing-Murray, and 2012 ElliptiGO World Champion, Rusty Snow, took first and second places at the Carlsbad 5000 on April 7, 2013. Cushing-Murray finished in 15:40 to become a four-time winner of the Carlsbad 5000 for Men 40 and over, and Snow finished in 15:42 to secure second place. Cushing-Murray's win comes less than a month after he set the new American record for Men 45-49 in the 1500 meters. Both athletes use the ElliptiGO to add additional volume to their run training.
About ElliptiGO
ElliptiGO, Inc. is the San Diego-based company that created the world's first outdoor elliptical bicycle specifically designed for runners. Combining the best of running, cycling and the elliptical trainer, the ElliptiGO® provides a comfortable, fun and effective way to exercise outdoors. It delivers a high-performance workout experience that closely mimics running outdoors while eliminating the impact. Elliptical cycling is an effective way to build cardiovascular fitness without aggravating injuries and is great for everyone from the weekend warrior to the elite athlete. The full line of ElliptiGOs can be purchased at retailers nationwide and through the company's website: http://www.elliptigo.com.
###