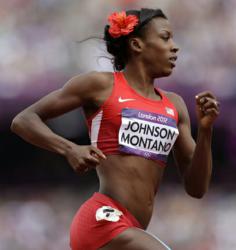 New York, NY (PRWEB) February 26, 2013
Alysia Montaño, the 2012 US Olympic Trials Champion in the 800 meters, clocked a 1:23:59 in the 600 meters at the Millrose Games to set a new American Record. An uncommon distance in current track and field contests, Montaño came to Millrose in top shape with the American record in her sights. Besting the previous mark of 1:26:56 set in 1981 by three seconds, Montaño added another accomplishment to her already impressive resume.
An 800-meter specialist, Montaño is a four-time National Champion in the event and took 5th place in the 800 meter finals at the London Olympics this past summer. Montaño began training on the ElliptiGO in early 2012 and has joined the Project to better leverage the expertise of The ElliptiGO Project's other members and advisors.
About The ElliptiGO Project
The ElliptiGO Project exists to make runners faster through innovation. It is currently growing membership, adding new innovative running tools, and affiliating with other organizations that share the same goal of improving athletes' performance through innovation. The Project tests new training techniques through competition, both on the track and on the road, and reports its findings with candor. http://www.theelliptigoproject.com
# # #