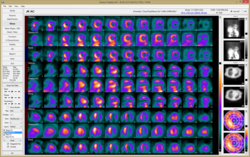 With the advent of Emory Toolbox 4.0 and our new SmartReport, powered by Syntermed IDS, reports are not only cloud-accessible but can now be fully integrated with EMR at the hospital enterprise level. -- Michael Lee, CEO, Syntermed, Inc.
Atlanta, GA (PRWEB) May 20, 2013
Syntermed Inc. was awarded 510(k) clearance recently for Emory Cardiac Toolbox™ version 4.0 creating a game changing environment for nuclear cardiac labs. "One of the many things that makes Emory Toolbox 4.0 different is SmartReport, the first-ever, cloud-based nuclear cardiology reporting tool using decision support," said Michael Lee, CEO, Syntermed, Inc. The decision support system that powers SmartReport is called Syntermed IDS, and will allow diagnosticians to perform faster, more accurate nuclear cardiology reports from SPECT and PET heart scans.
Syntermed, the privately-held nuclear medicine imaging and informatics software company based in Atlanta, has had a longstanding relationship with Emory University. Lee adds, "The original intellectual property for Emory Toolbox was developed by Emory nuclear cardiology researcher Ernest Garcia, PhD, 15 years ago. Now, Dr. Garcia and his colleagues have broken through the ceiling of cardiac imaging decision support and identified new levels of productivity and efficiencies in the nuclear medicine lab using the Emory Toolbox." The new Emory Toolbox 4.0 was totally rebuilt on a progressive .NET framework to maximize the latest computer and network technologies but still has the same familiar user-guide. Designed to increase lab workflow and efficiency, Toolbox 4.0 has a more intuitive user interface which supports a dynamic windows manager, a new 3D display, and offers simplified packaging whereby many of the existing tools are now a standard part of Toolbox 4.0.
Since 1999 Syntermed, Inc. has been marketing and distributing Emory Toolbox to cardiac imaging labs. Currently, Emory Toolbox is licensed to more than 30,000 nuclear cardiology labs worldwide. "Our company continues to be focused on developing innovative clinical applications to improve workflow and efficiency. For example, Syntermed Live™, now in its sixth year of operation, gives physicians convenient 24/7-365 days a year remote access to studies and reports," said Lee. "With the advent of Emory Toolbox 4.0 and our new SmartReport, powered by Syntermed IDS, reports are not only cloud-accessible but can now be fully integrated with EMR at the hospital enterprise level. Emory Toolbox 4.0 represents the first product on the market with 510(k) clearance for an imaging decision support system for interpreting and reporting SPECT myocardial perfusion studies. This 510(k) also contains clearance for the quantification of myocardial blood flow and coronary flow reserve."
Emory Toolbox 4.0 with SmartReport, powered by Syntermed IDS, will be launched on June 8 at the annual meeting of the Society of Nuclear Medicine and Molecular Imaging.
The Emory Toolbox 4.0 is an Internet—WIFI-based system and acquires the data from the ECG-gated myocardial perfusion SPECT studies, automatically reconstructing the data, then analyzing and converting it to quantitative parameters or factors of abnormality. This data is then submitted to an imaging decision support system that is continuously updated with the latest scientific and clinical knowledge to reach an impression of the patient's heart status. The physician then sees the justification for the diagnosis and can make changes to the report. The entire process is designed to be faster, more efficient and user-friendly while providing a comprehensive report that is more easily accessible given today's technology.
[For history about the development of Emory Toolbox refer to Emory University
Syntermed, Inc. is an Atlanta-based imaging and informatics software company that serves nuclear cardiology and nuclear medicine labs with its quantification and decision support software. Since 1999 Syntermed software has been utilized on SPECT and PET imaging systems. Today, the Emory Toolbox, now in its fourth generation, is one of the most widely applied methods of cardiac imaging, used in nearly half of all nuclear medicine labs nationwide. For advanced phase analysis imaging studies of left ventricle dyssynchrony, Syntermed offers SyncTool™. For brain scan images using PET, Syntermed's NeuroQ™ is the most widely used commercially quantitative solution in the world. All of Syntermed's software is compatible with virtually any nuclear medicine workstation or PC/MAC that supports Microsoft® Windows® operating system.Syntermed Live enables physicians to access images and reports using computer access from a secure server at any time of the day.
For more information,
contact the Syntermed officers: Michael Lee, CEO, Ken Van Train, President, and Christian Del'Aune, Director of Technology.