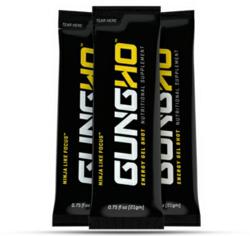 Natural energy & focus without a crash
Salt lake City, UT (PRWEB) January 31, 2013
GungHo originally targeted University students wanting to ace exams with "Ninja-Like Focus". But the students' mothers seem even more passionate about GungHo. Busy mums need more than just energy. Juggling kids' schedules on little sleep, mums are raving about GungHo' smoother energy, focus and memory recall. "I can't handle the jitteriness and crash of energy drinks," says mother Marco Fields. "With GungHo I get a natural lift with no crash... and I get more done!"
More than 50 lady Ninjas have submitted YouTube product reviews, touting "not just energy but focus and no jitteriness." Many more positive comments can be seen on GungHo' facebook plugin.
Says Danny Mason, GungHo co-founder and father of nine children: "It makes sense. GungHo has no sugar, no carbs, releases beta-endorphines (the "happy hormone"), is a mild appetite suppressant and really helps my wife get more done with no let down. There is no more important work than being a Mother, so we are proud to be helping a little."
GungHo wants to make more ladies aware of Ninja-Like Focus. As such they have extended the Lady Ninja Challenge. Any blogger with a female audience can apply for free GungHo if they'll promise to tell their fans about their experience. "We are confident they will love Gungho and want to tell their fans about it. We'll also provide free GungHo to give-away, if they like it."
GungHo is a focus supplement for the brain. It was launched by Go GungHo, LLC out of Salt Lake City, UT in early 2012. More than simple alertness, GungHo's proprietary blend of ingredients are proven to increase focus, brain energy, concentration, memory storage, and memory recall, while avoiding the harsh rush, jitters, and crash common with energy products.