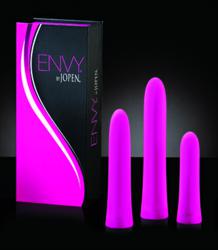 We gave ENVY a classic design and concentrated on creating unparalleled power and unmatched innovation.
Chino, California (PRWEB) May 15, 2013
ENVY by JOPEN, dubbed the most powerful vibrator in the world, is in stock and available. Unveiled at the January 2013 ANME Show, ENVY is highly anticipated because of its innovative technology and strong, rechargeable motor. Incremental speed control and a classic design earn ENVY its name.
Susan Colvin, President and CEO of JOPEN, says, "After the huge success of Vanity by JOPEN we wanted to take it to a new level with JOPEN's next collection. As we conceptualized ENVY we made the underlying technology our focus. Basic shapes sell well for a reason so we gave ENVY a classic design and concentrated on creating unparalleled power and unmatched innovation."
ENVY features seven functions with independent speed control which gives the user more options. Made of premium Silicone, it has a satin finish, is virtually seamless, whisper-quiet and waterproof. Three sizes are available. ENVY I is 4.5" x 1.25"/11.5 cm x 3.25 cm. ENVY II is 5.75" x 1.25"/14.5 cm x 3.25 cm. ENVY III is 7" x 1.5"/17.75" x 3.75".
"When looking for maximum performance look no further than ENVY," says Robin Stewart, Brand Manager for JOPEN. "ENVY is the most powerful rechargeable vibrator I've ever felt. Once you hold it in your hand you'll understand the exquisite combination of power, function, and form that ENVY offers."
ENVY is powered by PowerBullet™. Additionally it has a state-of-the-art memory chip that resumes the last function used and comes with a USB charging cord. Retailers can stock ENVY with confidence as it has a one-year limited warranty.
To find out more about ENVY by JOPEN, visit http://www.JOPEN.com.
About JOPEN, LLC
JOPEN is a global luxury pleasure product company with a business model focused on form and function. An expert team of women drives the creation of JOPEN's best-selling collection, Vanity, as well as the revolutionary Intensity, the masculine Ego line, and KEY by JOPEN—which is synonymous with affordable luxury. They understand the luxury market and fashion JOPEN products with the features that women and men want. JOPEN has licensed, authorized distributors, which guarantee efficient, accurate, rapid delivery so retailers always have available stock. JOPEN provides pleasure with outstanding customer service, one of the best warranty programs in existence, and products that are designed to please. Visit http://www.JOPEN.com. Encounter the new standard in luxury pleasure objects.