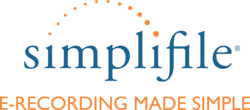 Not only is e-recording more convenient, it also cuts out the wait time that comes with the traditional, paper document recording processes
SANTA CRUZ COUNTY, Calif. (PRWEB) June 20, 2013
Land document submitters including title companies, banks and attorneys, now have the ability to e-record documents in Santa Cruz County, Calif., through Simplifile, the nation's largest and fastest-growing e-recording service provider.
"E-Recording will bring many time and cost-saving benefits to Santa Cruz County and its submitters," said Paul Clifford, president of Simplifile. "Many of our customers have been anxious for this announcement and we are excited to be up and running in our 15th California county."
With 15 counties now e-recording, 25 percent of California's recording jurisdictions are now accessible for Simplifile customers to submit documents electronically.
With the recording process online, submitters such as title companies and banks no longer have to mail their time-sensitive documents or travel to the county to have their documents recorded.
"Not only is e-recording more convenient, it also cuts out the wait time that comes with the traditional, paper document recording processes," Clifford said.
With the ability to securely process payments via Automated Clearing House (ACH) through Simplifile, check-writing expenses are eliminated as well as reduced payment errors or lost or stolen checks.
Organizations that would like more information about e-recording in Santa Cruz County, Calif., can call Simplifile at 800-460-5657 for questions, training and support or visit simplifile.com.
About Simplifile
Simplifile is the nation's largest and fastest-growing e-recording service. Simplifile supports thousands of e-recording customers including title companies, banks, attorneys, lien filers, and other organizations that create and submit documents to more than 900 local, state, and federal government jurisdictions. Simplifile's electronic document services save time and expenses associated with traditional document submission methods. Simplifile is focused on building the industry's largest and easiest-to-use e-recording service for organizations of all shapes and sizes. More information about Simplifile may be found at simplifile.com or by calling 800-460-5657.
"Simplifile" is a registered service mark of Simplifile, LC.
# # #