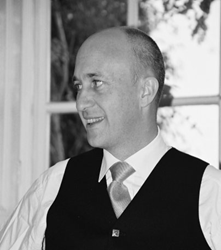 "For all of Russmedia's businesses I see large potential both nationally and especially in the case of erento internationally and I'm looking forward to this new and exciting challenge" - Rob Paterson
Reading, UK & Berlin, Germany (PRWEB UK) 23 January 2013
From 1st of February Rob Paterson will join the management of erento GmbH, the online rental marketplace with headquarters in Berlin. He follows on Rainer Krösing who is leaving the company.
Patrick Günter, CEO of Russmedia Digital Beteiligungs GmbH: "We would like to take the opportunity to thank Rainer for his great contribution to the development of erento and in particular to the establishment of erento Ltd. in the UK. And last but not least for making erento profitable. We wish Rainer every success in the future."
Paterson, from England, has worked in the classified media industry for over 25 years and for the past 20 years has been Group Managing Director of Friday Media Group based in the South of England. He was responsible for the growth and expansion of the business as well as the internationalization of a number of their brands. "For all of Russmedia's businesses I see large potential both nationally and especially in the case of erento internationally and I'm looking forward to this new and exciting challenge" says Paterson.
Patrick Günter: "We've known Rob Paterson for over 10 years and have witnessed his success. I am delighted that an executive like Paterson is joining our team."
erento is part of the portfolio of internet properties owned by Russmedia Digital Beteiligungs GmbH who want to realise the opportunities of growing their online portals and in particular erento internationally.
erento with more than 1.2 million items and more than 10,500 businesses it is the world's largest online rental marketplace. Cars, bouncy castles, garden equipment – anything and everything can be rented easily and cheaply. For nine years erento has been bringing businesses and consumers together online. Erento is the quickest and easiest way for any business in the rental industry to gain new customers and increased sales.
Russmedia also includes one of the largest classified marketplaces in Germany in http://www.quoka.de and leading specialist marketplaces such as http://www.caraworld.de (for campers and caravans), http://www.pferde.de for everything equestrian) and http://www.mascus.de (for commercial vehicle and plant).
The business activity of Russmedia covers 10 daily newspapers, 80 weekly newspapers and more than 100 online portals with 19,7m unique clients/month and 330m page impressions/month within Austria, Germany, UK, Hungary and Rumania.