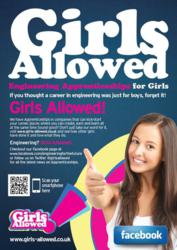 we needed to find a way to engage with, and inspire young women in Essex from age 13 plus to show them the diverse range of opportunities available to them, in professions where they could have some amazing long-term career prospects
Essex (PRWEB UK) 9 April 2013
Now, it has been announced that an innovative Essex-based campaign to redress the balance by recruiting female engineering apprentices is off to a flying start.
The Girls Allowed initiative was created to address this imbalance and recruit girls into engineering apprenticeships, with short and long-term engineering training, work placements and apprenticeships available through colleges in Chelmsford, Colchester, Harlow and Basildon. This is the first time that multiple UK colleges and a local authority (Essex County Council) have worked in collaboration, enabling the scheme to be rolled out across Essex with opportunities available close to every main town.
The Essex partnership appointed multi award-winning Essex-based creative design agency Zero Above with the challenge to create a campaign that would inspire girls and young women across the county to consider apprenticeships in traditionally male dominated industries such as logistics, electronics, manufacturing and renewable energy. The agency worked with a strategist who was part of the hugely successful FRANK anti-drugs campaign and a similar female targeted recruitment campaign for the Royal Navy to create a brand and a concept that would engage with young women across Essex through social media, direct communications, incentives and an interactive website. The campaign has featured demographically driven targeted competitions run through Facebook which has generated heightened awareness and interest in the campaign.
Nikki Kennard, Marketing Manager at Chelmsford College said: 'the fact that women are so unrepresented in engineering roles is a national concern, so we understood the urgent need to recruit girls in to apprenticeships. Once our funding and training framework was in place we needed to find a way to engage with, and inspire young women in Essex from age 13 plus to show them the diverse range of opportunities available to them, in careers where they could have some amazing long-term career prospects. We have also worked closely with some fantastic Essex-based companies to secure apprenticeships and work placements in engineering roles. '
And it seems the strategy is working; more than 120 girls in Essex have registered, inspired by success stories from young women including Amy Jane Thomas who is training in motor engineering towards her goal to be a Formula 1 mechanic, Shanice Brown, who secured an apprenticeship with defence contract company Selex Galileo, and Advanced Engineering apprentice Paige Tennison, who was offered three placements, choosing Applied Scintillation Technologies in Harlow.
Due to its success, the campaign is currently being extended to incorporate STEM based careers (science, technology, engineering and mathematics) which will drive the campaign to a new audience, raising awareness and potential for girls and young women to begin careers in fields they may never have considered previously.
Girls Allowed is a joint project run by Essex County Council in partnership with Chelmsford Training Services, Colchester Institute, Harlow College and Prospects Training Solutions in Basildon. To find out more about the opportunities available visit http://www.girls-allowed.co.uk
Zero Above is a multi-award-winning creative agency who specialise in developing campaigns for the education and third-sectors, working with a number of education organisations, charities including Mind, Cancer Research and The Renewal Programme. For more information visit http://www.zeroabove.co.uk or call Simon Isaac, Strategy Partner on 07540 387601