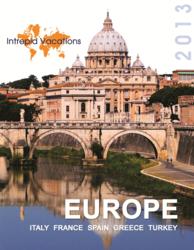 Intrepid Vacations features insightfully planned and delivered travel programs that take travelers to delve into each destination, beyond the cookie-cutter touristy travel, so they may truly experience each place visited in an inspired way
Marlton, NJ (PRWEB) May 31, 2013
Intrepid Vacations is pleased to ring-in summer with savings of 10 percent on the company's collection of 2013 Escorted Tours to Italy, Spain, and Turkey -- known for their exclusive inclusions that take travelers to truly live each destination as if they were a local. Savings are valid for new bookings made by June 30, 2013, for travel through the end of 2013.
"Our travel programs offer even more unique opportunities for travelers to experience the best of Italy, Spain & Turkey, authentically drawing them into each destination beyond other travel companies," said Brian John, President and CEO of Intrepid Vacations. "Intrepid Vacations features insightfully planned and delivered travel programs that take travelers to delve into each destination, beyond the cookie-cutter touristy travel, so they may truly experience each place visited in an inspired way as if they were a native to that region."
Here's a look at some of Intrepid Vacations' escorted travel vacation packages that must be booked by June 30th to take advantage of the 10 percent savings:
-- Highlights of Italy -- 9 days/8 nights -- from $2873
(2 nights Venice, 3 nights Florence, 3 nights Rome)
This splendid Italian vacation package begins in Venice, where gondola rides, St. Mark Square, the Bridge of Sighs, and trattorias beckon with tasty dishes to enjoy around every corner. Next, travelers head to Florence, the birthplace of the Italian renaissance with its original "David of Michelangelo," Brunelleschi's Duomo and the Uffizzi Galleries, the Ponte Vecchio, Pitti Palace, and its enticing leather markets. This Italy vacation continues in the country's capital city, Rome, where the aroma of authentic Italian recipes fill quaint piazzas surrounded by old world fountains and modern boutiques. Travelers can explore the Roman Forum, Coliseum, Spanish Steps and more or delve into religious history touring Vatican City and St. Peter's Square. It's a superb way to enjoy "la dolce vita" in Italy.
-- Highlights of Spain – 11 days / 10 nights – from $2710
(3 nights Barcelona, 3 nights Madrid, 2 nights Seville, 1 night Granada, 1 night Costa del Sol)
Travelers on this Highlights of Spain tour package will start their exciting journey in Barcelona with its lively "Las Ramblas" pedestrian streets lined with cafes and bars, inspired art and architecture by Gaudi and entrancing coastline. From there, the Spanish capital of Madrid awaits with its iconic museums, cultural allure, shopping avenues, as well as a virtually unending nightlife for the liveliest day to night exploration. After a few days in Madrid, the tour continues south to romantic Seville, Andalusia's capital city, and Granada. Travelers will enjoy included guided tours along the way to world UNESCO World heritage sites including, Seville's famous Cathedral, the Mosque of Cordoba and Alhambra Palace together with Generalife Gardens in Granada before basking in the glistening sun along Costa del Sol's sandy beaches.
-- Highlights of Turkey – 9 days / 8 nights – from $1045
(3 nights Istanbul, 1ningt Canakkale, 2 nights Kusadasi, 1 night Pamukkale, 2 nights Antalya)
History envelopes travelers on this 9-day escorted travel package from the moment they arrive in Istanbul with its renowned Topkapi Palace, Hagia Sophia Museum, the Blue Mosque and Hippodrome of Constantinople – the ancient arena of chariot races. Adventurers may wish to buy someone they love "The Blue Eye," an exotic souvenir and ethnic piece that can be made into anything from an ornament, key chain, or pendant to ward off the evil eye. A trip to the spice market is on every foodie's itinerary and is a great place to shop for the distinct flavors of Turkey. Travelers will journey along the Eastern coast and visit Troy and Pergamon. In Kusadasi, the famous ruins of Ephesus take travelers back in time, then it's on to explore the breath-taking white limestone terraces and hot springs of Pamukkale before visiting Antalya, an ancient coastal city set alongside the Mediterranean. The Highlights of Turkey travel package promises exotic excitement at every turn!
Starting from rates detailed above are per person, land only, based on double occupancy. For more details on the company's expansive range of Italy tour packages, visit Intrepid-Vacations.com. Travel Savings Event Discounts are valid only on new bookings made by June 30, 2013 for 2013 Escorted Tours to Italy, Spain & Turkey. This offer cannot be combined with any other promotion and is not valid for group or existing bookings.
About Intrepid Vacations
Intrepid Vacations is dedicated to delivering travel programs that take travelers to truly experience destinations throughout Europe and the Middle East in an authentic and inspired way. Each itinerary is developed to offer travelers an unparalleled experiential, cultural and social travel program. The company offers an expansive array of travel programs including Independent Travel Packages, Escorted Motor Coach Tours, Honeymoons, Fly and Drive Tours, Culinary/ Food & Wine Tours, Group Tours, Nile River Cruises, Aegean Cruises, as well as fully customized trips.
Intrepid Vacations travel programs include centrally located accommodations, deluxe motor coach or private car transfers, breakfast daily, knowledgeable tour escorts or local guides during sightseeing and attractions visits, guaranteed departures on escorted tours with a minimum of two persons for select destinations. For more information or to book travel call 800-505-5497 or visit Intrepid-Vacations.com.
MEDIA CONTACT:
Marlene Oliver, NJC Communications
(305) 491-0512, moliver (at) njccorp.com
###