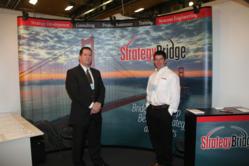 "Our goal will be to demonstrate the importance of Systems Engineering as part of successful Program Management." Strategy Bridge Vice President of Business Development Paul AmRhein
Winchester, VA (PRWEB) December 28, 2012
Strategy Bridge International, the leader in systems engineering based strategy development, has announced its 2013 exhibition and presentation schedule. Strategy Bridge will be participating in both industry and government-sponsored conferences, with a special focus on National Defense Industrial Association events as well as Intelligence Community trade shows. "We've raised awareness of Strategy Bridge's capabilities within our existing Systems Engineering client base. In 2013, our goal will be to demonstrate the importance of Systems Engineering as part of successful Program Management," stated Paul AmRhein, Strategy Bridge Vice President for Business Development.
The exhibit schedule is highlighted by two Systems Engineering focused conferences - the INCOSE International Symposium and the NDIA Systems Engineering conference. The INCOSE 2013 International Symposium will be held in Philadelphia, PA. and as in previous years, Mark Wilson, Strategy Bridge Founder and Thought Leader, will deliver a tutorial titled 'Applied Systems Thinking for Organizational Success'. "Our role as a leader in Systems Engineering Professional Development is well established. Strategy Bridge's continued participation as both an exhibitor and presenter further solidifies our partnership with INCOSE," added AmRhein. The NDIA Systems Engineering conference creates an interactive forum for Program Managers, Systems Engineers, Chief Scientists, and Engineers and Managers to shape policy and procedures by exchanging innovative tactics and lessons learned.
Several government sponsored conferences have been discontinued, including the NASA PM Challenge, the Department of Energy's (DOE's) Small Business Conference and the Federal Aviation Administration's (FAA's) Small Business Conference. These events have been replaced on the Strategy Bridge schedule by industry conferences including:

The AFSEA Homeland Security conference which serves as the premier event to learn about our nation's most significant homeland security issues and includes a focus on Training.
The Defense Intelligence Information Enterprise conference which is focused on understanding and evolving the global ISR enterprise. DI2E participants are from OSD, DNI, Defense Agencies, Military Services, COCOMs, and the Joint Staff work to strengthen the ISR enterprise partnership between DoD and the IC.
The National Logistics Conference which brings together the senior logistics policy officials and senior practitioners including government and industry participants.
These events link Strategy Bridge's core capabilities of Systems Engineering excellence, successful delivery of complex projects and experience in the intelligence community. "Strategy Bridge invites our current and future clients to visit our booth and attend our presentations," remarked Wilson.
ABOUT STRATEGY BRIDGE
Strategy Bridge International enables clients to bridge the gap between strategy development and desired operating results through systems thinking, systems engineering, decision analysis, and project management. Strategy Bridge offers facilitated planning workshops and focused consulting to guide strategy and systems development, project planning, and decision-making. Strategy Bridge master instructors average over 25 years of practical on-the-job experience running complex projects and teach a full portfolio of tailored courses designed to improve organizational performance in systems engineering, project management, and leadership.