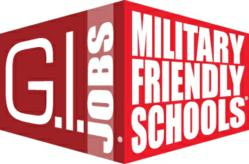 "The interactive, virtual format is especially attractive for service members deployed overseas or those still in uniform deciding which school best fits their needs," said Annie Dolan, Associate Dir., Masters Admissions,Tepper School at Carnegie Mellon
Pittsburgh, PA (PRWEB) May 02, 2013
A Virtual College Fair connecting active military, veterans and spouses with student veterans and representatives from designated Military Friendly Schools® was announced today by Victory Media. It can be found at http://www.militaryfriendlyschools.com/collegefair
The virtual college fair is the first to pair members of the military community seeking education with student veterans and school representatives from pre-screened Military Friendly Schools® using interactive online events technology. The event, scheduled for September, will allow active military, veterans and spouses from across the globe to get a real "boots on the ground" perspective of campus life, and engage one-on-one with admissions representatives, as well as enrolled military students.
"The virtual college fair provides an unprecedented opportunity for service members, spouses and veterans to interact with the top tier of schools doing the most to support military students," said Annie Dolan, Associate Director of Masters Admissions at the Tepper School at Carnegie Mellon University. "The interactive, virtual format is especially attractive for service members deployed overseas or those still in uniform deciding which school best fits their needs."
The virtual event is a highly efficient alternative to conventional college fairs, which often are constrained to one geographic area, have limited interaction between exhibiting schools and prospective students, and result in costly travel expenses. Schools participating in the event will be limited to those which have earned the Military Friendly Schools® designation via a data-driven survey process. Now in its fifth year, the Military Friendly Schools® designation is awarded to the top 15 percent of colleges, universities and trade schools in the country that are doing the most to embrace America's active military, veterans and spouses as students and ensure their success in the classroom and after graduation.
"Due to heavy operational commitments and the remote nature of many bases, service members oftentimes have difficulty visiting schools in person and meeting student veterans before choosing a school," said Sean Collins, Vice President at Victory Media and a Navy Veteran. "Choosing a school is a huge choice in one's life and the options are seemingly endless. This virtual college fair will provide a vital tool to ensure that veterans' time, and taxpayer-funded tuition, are being put to best use."
The event is the first to limit exhibiting schools to those measured by an objective standard, via the Military Friendly Schools® survey process. "It's a great example of how schools can efficiently interact with prospective military students in accordance with the newly established Principles of Excellence," said Collins. "The virtual college fair is all about arming service members with the right information to find the best programs for their hard-earned education benefits."
Free webinars with more information on the Virtual College Fair and Military Friendly Schools® survey process will be held on Thursday, May 2 and 9 at 1:00 pm EDT. Interested schools are encouraged to register for the webinars at no cost.
About Military Friendly®:
The Military Friendly Schools® designation process includes extensive research and a data-driven survey of more than 12,000 schools nationwide approved for VA education funding. The school survey, methodology, criteria and weightings are developed with the assistance of an Academic Advisory Board (AAB) consisting of educators from schools across the country and are independently tested by Ernst & Young LLP based upon the weightings and methodology established by Victory Media. Any school interested in participating in the Virtual College Fair must first submit a Military Friendly Schools® survey and compete for the designation. The survey is administered for free and is now open for all schools at: http://militaryfriendly.com/survey. Criteria for consideration can be found on our website: http://www.militaryfriendlyschools.com
About Victory Media:
Victory Media is a service-disabled, veteran-owned small business and has been serving the military community since 2001. Our data-driven lists are published in G.I. Jobs, Military Spouse, Vetrepreneur media channels, republished in periodicals like USA Today, Wall Street Journal, Fortune, Bloomberg BW and are frequently cited on national TV by NBC, ABC, CBS, CNN, CNBC, Fox News and others.
You can follow Military Friendly® on Facebook at http://www.facebook.com/MilitaryFriendly or on Twitter @Mil_Friendly
For further information on Military Friendly Schools® or Victory Media, or to arrange interviews, contact:
Barbara Pflughaupt at 212-707-8181 or Judee Cohen at 917-721-0663.