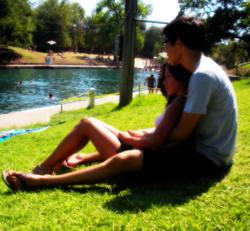 Persons who use any of these maintenance strategies will not only be more satisfied with and committed to their relationship, they are also likely to continue to love and, yes, even like each other throughout its duration
Austin, TX (PRWEB) January 23, 2013
PearHaven, a website for date ideas and maintaining healthy, happy couple relationships, reports on the latest scientific research from The University of Illinois College of Agricultural, Consumer and Environmental Sciences (2013, January 9) by B. G. Ogolsky and J. R. Bowers. Ogolsky and Bowers research found five effective strategies for strengthening a couple's relationship. These strategies are openness in sharing feelings, positivity in being a cheerful companion, assurances that partners are committed in the long run, sharing household chores and responsibilities, and lastly, including each others' friends and family in some of the couple's activities.
"Persons who use any of these maintenance strategies will not only be more satisfied with and committed to their relationship, they are also likely to continue to love and, yes, even like each other throughout its duration," Professor Ogolsky commented.
PearHaven is about the importance of long-term romantic couple relationships and offers more research confirming the use of these five strategies for strengthening relationships.
Findings about the importance of partners sharing feelings is further discussed in the Article: "Eye of the Beholder: The Individual and Dyadic Contributions of Empathic Accuracy and Perceived Empathic Effort to Relationship Satisfaction," Shiri Cohen, PhD, Harvard Medical School, Massachusetts General Hospital; Marc S. Schulz, PhD, and Emily Weiss, Bryn Mawr College; and Robert J. Waldinger, PhD, Harvard Medical School, Massachusetts General Hospital;Journal of Family Psychology, Vol. 26, No. 2. This research revealed " the more men and women try to be empathetic to their partner's feelings, the happier they are. The authors suggest that this research should encourage couples to better appreciate and communicate one another's efforts to be empathetic."
Promoting the positive in relationships, Suzann Pileggi, writes about "The Happy Couple" in the Scientific American Mind, January/February 2010 publication. Pileggi reports how psychology researchers at University of Pennsylvania "discovered that thriving couples accentuate the positive in life more than those who stay together unhappily or split do. They not only cope well during hardship but also celebrate the happy moments and work to build more bright points into their lives."
Couples who express a sense of long-term commitment may lead to a successful romantic relationship. Sarì Harrar and Rita DeMaria, Ph.D. from The 7 Stages of Marriage book, stated that "When University of Minnesota researcher David Olson, Ph.D., and his daughter Amy Olson-Sigg surveyed over 10,000 married couples, they found that togetherness was a top priority for 97 percent of happy couples but for only 28 percent of unhappy pairs."
Sharing responsibilities and chores by couples is included as an important strategy in relationship maintenance. This strategy is also confirmed iby NBCNEWS.com contributor, Dr. Robi Ludwig,. Ludwig's article, "Time for truce in 'chore wars' between couples. Ludwig reports that in a national study, " the couples who felt chores were more equally shared felt happier toward their partners and happier about their marriages in general."
Including friends and family in some couples' activities can help sustain couple relationships and provide role models for couples. Psychology Today featured the article, "How couples make and maintain friendships with other couples,"published on January 10, 2012 by Geoffrey Greif, Ph.D.in Buddy System. "...couples who share friends (which include individuals or family members) tend to be happier. These couples get to be together with friends and family and engage in enjoyable and meaningful activities" Greif continues, "We believe couples not only derive great enjoyment from their friendships with other couples - they also appreciate each other more. Their marriage/relationship is strengthened by healthy couple friendships."
PearHaven promotes a couple's long-term romantic relationship. PearHaven.com uses different features to keep couples romantically involved with each other. The website suggests and maps out the best date ideas. The website also offers a fun game-like design called gamification where couples are rewarded achievement badges for their date experiences such as going on dates in different cities or connecting with other couples.
PearHaven members share their favorite date ideas, record their memories, post photos and find the best date ideas or relationship advice. The website fosters strong relationships through the use of technology and gamification. PearHaven encourages couples to remember those positive times in a relationship, thus strengthening couples' relationships.
PearHaven's free app for the iPhone and iPad offers date ideas on-the-go. PearHaven's blog features relationship advice, dating ideas and fun trivia.
About PearHaven
PearHaven is not a dating site.
It is a social website with free sign-ups for people of all ages who are dating, engaged or married. Members can record their dating experiences, connect with others, post photos and earn achievement badges for trying the latest date ideas. PearHaven.com suggests the best date ideas and maps the locations.The website was founded by David Lackey, a student at Princeton University. PearHaven has a free iPhone and iPad App at the App Store to record date ideas and photos on-the-go.