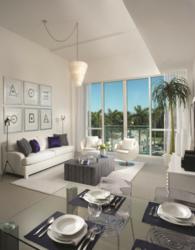 Now despite some people taking a negative view of the Florida real estate revival, there is plenty to feel optimistic about
(PRWEB UK) 11 February 2013
House prices in the US have risen for six of the past seven months in the US (Source: Guardian,Sun Shines on Florida Property Market, 10 February) and according to the Miami Association of Realtors, the number of home sales in Miami during 2012 set a new record.
This combined with prices that are 45% lower than they were at the peak of the market in 2007 should alert investors to the potential of Florida property, according to Colordarcy.com
Loxley McKenzie, Managing Director of Colordarcy.com commented, "Sometimes in life, an opportunity comes along that is irresistible and at the moment that opportunity for property investors can be found close to Florida's beaches.
Why is it such a big opportunity? We can put this down to two words – inflation and location.
Now despite some people taking a negative view of the Florida real estate revival, there is plenty to feel optimistic about, certainly when you start to take inflation into account and low prices we see at the moment."
Colordarcy points out that by investing in Florida property now, investors can rely on making an income that is inflation proof in the long term. This is an important consideration in the low interest rate environment many people find themselves in.
House prices tend to rise with inflation, so the higher the inflation rate, the more valuable an investment in property will become over time.
With the Fed constantly pushing for quantitative easing (QE), the risk of inflation becoming a factor in the US in the near future is very real and this can only start to push up the price of US housing too according to Colordarcy.
The potential long term ROI on a luxury condo in Florida was highlighted this month in a piece in the New York Times.
The article looked at one Florida beachfront development built back in 2001 where units were sold for less than $400 a square foot. Those same units, according to the article, are now worth $1,100 per square foot.
Now of course there is very little development land close to the beach and this will underpin the price of Florida apartments with a sea view as will inflation, which Colordarcy expects to see rising in the US in the long term.
So with property prices 45% lower in Florida than they were at the peak of the market in 2007, now is potentially a once in a lifetime opportunity to ride the next wave of growth Florida.
The sunshine state is already showing signs that property prices will rise more steeply than was seen following the recessions of the 70s and 80s.
Notes to the editor:
Colordarcy is a leading property investment company that specialises in finding positive cash flow investment properties worldwide. Colordarcy investment property portfolio includes some of the best properties for sale in Brazil, Florida, Turkey and the United Kingdom.
For more information, supporting pictures or logo artwork, please contact:
Brett Tudor
PR Manager
Tel: +44 (0) 207 100 2393
Email: press(at)colordarcy(dot)com
Web: http://www.colordarcy.com/