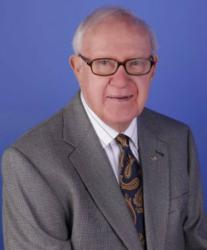 We are proud that Kirwan has been associated with FMCA for so many years, and we congratulate him on this honor.
Cincinnati, Ohio (PRWEB) April 19, 2013
The RV/MH Hall of Fame in Elkhart, Indiana, recently announced that RV industry pioneer Kirwan Elmers will be inducted as a member of the class of 2013.
In 1955, Kirwan and his father, Miles, founded Custom Coach Corporation, based in Columbus, Ohio. Custom Coach became a division of Columbus-based Farber Specialty Vehicles in 2002, but Kirwan continued to be involved in the operation of the company until his retirement in 2012.
Kirwan and his father, Miles, developed the first commercially converted motor coaches designed for private use. The company's custom conversions provide celebrities, traveling executives and RV families with permanent or temporary residences.
Travel by Custom Coach's many well-known clients has brought recognition to the motorhome lifestyle. For instance, the company provided 22 "Big Mac" coaches for Ray Kroc, founder of McDonalds, as well as coaches for the late Dave Thomas, founder of Wendy's, among myriad other corporate clients. Custom Coach conversions have even been used as "anchors" for the Goodyear blimps.
Custom Coach's celebrity clients have included Lee Greenwood, Loretta Lynn, Johnny Cash, Dolly Parton, Conway Twitty, Ray Charles, Clint Eastwood and sportscaster John Madden.
The clientele list also includes true royalty, as the royal family of Saudi Arabia has purchased a number of the company's conversions over the years. The last of the family's 21 45-foot Custom Coach conversions were delivered by air to Dubai, the capital.
Kirwan Elmers has been a longtime family and commercial member of Cincinnati, Ohio-based Family Motor Coach Association, which is celebrating its 50th anniversary in 2013. Mr. Elmers attended the July 1963 meeting of "house car" owners where the decision was made to form the organization for those who enjoyed traveling by motorized recreation vehicles, now known as motorhomes.
Mr. Elmers served as a member of FMCA's Commercial Council for many years, including as president from 1990 to 1999.
"Kirwan's induction into the RV/MH Hall of Fame is long overdue," commented FMCA national president Charlie Schrenkel. "He has been a true pioneer in the RV industry whose contributions merited recognition by his peers. We are proud that Kirwan has been associated with FMCA for so many years, and we congratulate him on this honor."
Two other motorhome industry leaders and FMCA supporters also will be inducted into the RV/MH Hall of Fame as part of the class of 2013 – the late C.M. Fore, founder of Foretravel Motorhomes, and the late Mat Perlot, founder of Safari Motorhomes.
The induction dinner will be held Aug. 5 in Elkhart.
About Family Motor Coach Association • Enhancing The Motorhome Lifestyle
Now in its 50th year, Family Motor Coach Association (FMCA) is an international organization for families who own and enjoy the use of self-contained, motorized recreation vehicles known as motorhomes. The association maintains its national headquarters in Cincinnati, Ohio, and currently has more than 80,000 active member families. FMCA offers a number of benefits for motorhome owners, including a subscription to its monthly magazine, Family Motor Coaching; trip routing; mail forwarding; and group rates on motorhome insurance and an emergency medical evacuation plan. Perhaps the most important benefit of FMCA membership is the camaraderie and friendships that develop among people enjoying the common interest of motorhome travel and recreation.