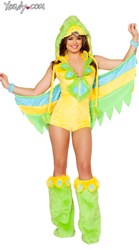 Phoenix, Ariz. (PRWEB) September 18, 2013
What is more synonymous with Halloween than bobbing for apples, carving jack-o-lanterns and scaring friends? At Yandy.com, Halloween would not be complete with out sexy Halloween costumes and the online retailer is preparing for the season by adding hundreds of new costumes to the sites already expansive selection.
Yandy is one of the largest online retailers of women's sexy Halloween costumes, boasting nearly 3,000 standard and plus size costumes available for purchase every day. Not only that, but of that selection, more than 1,100 costumes are new for 2013. Along with old favorites, like French maids, police officers, devils and angels, Yandy also carries increasingly popular sexy costume options like mermaids, furry animals and military inspired ensembles.
In addition, the online retailer is expanding the selection of Yandy exclusive 2013 Halloween costumes yet again this year. Yandy currently offers nearly 200 unique and exclusive costumes for customers that can only be found at the site of which nearly a quarter of are new for 2013. Some of Yandy's predictions for popular costumes this year include the sexy parakeet with deluxe, plush wings and the exclusive ninja complete with full size toy ninja swords. With many women going above and beyond to wear something on Halloween that nobody else will have Yandy found it increasingly important to offer exclusive costumes for customers.
Not only does Yandy offer one of the largest selection of sexy costumes available online, but the site also offers customers a free panty with every order, free shipping on orders over $70 as well as same day shipping. To shop Yandy's new 2013 Halloween costumes click here: http://www.yandy.com.
About Yandy.com
E-commerce is on the rise and Yandy.com is one of the largest online retailers of lingerie, sexy Halloween costumes, swimwear and clothing on the web. Founded in 2003, Yandy boasts more than 7,000 products always in stock at easily affordable prices. Yandy ensures that every customer will receive a safe, secure and private online shopping experience and is backed by COMODO online security and Google Checkout. Yandy is dedicated to customer service and only sells what is in stock which allows for quick, same day shipping. Offering the highest quality products at the most affordable prices in the market, Yandy has become a leader in ecommerce. Yandy works closely with all of the manufacturers they distribute for and hand select all of the items on the Web site to ensure customers have the largest and most diverse collection to choose from. In addition, the customer service team at Yandy is unrivaled. With attentive and helpful operators, should a question or problem arise, the customer service team at Yandy is always willing and able to assist. At Yandy, every customer can Be Sexy.