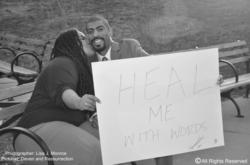 I write for all men who can not articulate in words their internal sufferings, who cannot organize their thoughts to share their journey.
(PRWEB) April 01, 2013
Heal Me With Words™ is a photo exhibit launched in partnership with Lisa J. Monroe a second generation photographer from Washington DC. The purpose of Heal Me With Words™ as a photo exhibit, is to create an eye-to-eye contact approach to healing where victims can receive the support they need without breaking their silence. The idea is for healed people to heal people.
Want to participate? Follow the directions below:
1. Grab a blue sharpie
2. Grab a posterboard (like the picture)
3. Write a revelation that empowers personal healing
4. Take a Picture!
5. Call with questions 202.717.7377 (RESS)
6. Send it to: ressurrection dot wordpress at yahoo dot com
7. Heal Me With Words™
Note: Ressurrection Graves does retain the copyright for the photo and in order to be a part of Heal Me With Words™ pictures must be submitted for approval first. Also, Lisa J. Monroe and Ressurrection will be traveling to take pictures. Click here for more information.
The truth is people do not wake up and become prostitutes. No one is born with the urge to become a drug addict or suffer from alcoholism. Many would have a hard time believing that homeless people think to themselves that being homeless voluntarily is the one idea that would be genius enough to make them rich, and stable.
What all of these conditions have in common is the overwhelming number of people who have endured child sexual abuse and may have masked their pain with a series of decisions that have taken them down a path whereby they lost direction and hope.
1. 97% of homeless mothers have been sexually abused and/or raped
2. 80% of mentally ill patients have been sexually abused
3. 75% of prostitutes have been sexually abused
4. 80% of alcohol/narcotics abusers have been sexually abused
5. 20-30% of foster care children will be sexually abused before the age of 18
It costs $124 billion over the life span of the collective victims of child sexual abuse for all the care that must be provided for the above problems.
In 2011, Ressurrection Graves wanted to restore hope by releasing her memoir entitled, Identity Crisis, Identity Christ Is: A Journey To Love. In the book you find a raw account of someone who is struggling (while homeless) to overcome adversity, rejection and the loss of everything only to face the fact that what happened to her as a child may have somehow contributed to her circumstances. Her book is a fantastic one for students of social work and psychology to read as a case study.
In 2012, Ressurrection wrote the stories of other people who have went through healing processes that restored their faith and hope. Many of the people she wrote about have their own advocacy work where they empower others.
Marko Hamlin's story found here touched so many because there are few men in the African-American community who are sun-kissed standing tall at 6'5 who make themselves vulnerable enough to share the horror of past sexual abuse.
In general people who are sexually abused are taught to be silent. Men are taught to be emotionally absent, even bullied by peers who call them condescending names which reflect what they perceive as weakness if men show the slightest emotion. Marko's heroism in sharing his story has changed many lives and created a platform for husbands to open up about past sexual abuse that may trigger their emotional absenteeism and/or struggle with depression.
In addition to writing stories that allow others to break their silence, Ressurrection is known for writing Op-Ed pieces that focus on messages often hidden in plain sight. You may be interested in viewing a few other those links here:
1. Lil Wayne and Emmitt Till on Sex With A Grudge In this article, Ressurrection writes about domestic and sexual violence promoted within the hip-hop community. She also highlights some of the promotions of sex enhancement drugs among the African-American community, by conducting a brief investigation of Sex With A Grudge also known as S.W.A.G.
2. Adoptive Mom Exploits Child in Photo Shoot In this op-ed, Ressurrection responds to an article that went viral all over the internet in support of a child whose adoptive mother took pictures of him reenacting his infancy because he does not have baby pictures. In a time where people very sensitive to gender references, Ressurrection thought it was important to identify concerns associated with the picture.
3. Amazon Rape t-shirts and Pedophile literature In this article, Yahoo was trending about a company who had references to rape culture. Ressurrection challenged that Amazon sells pedophile authors' books so why would rape t-shirts be recognized as inappropriate?
4. A Transgendered four year old Coy Mathis was on Katie and most other major news as a four-year old who told her parents that she is transgendered. In Ressurrection's article she questions the idea that Coy should be celebrated for making a gender choice when she is too young to identify that their are gender differences. As it relates to child sexual abuse, Ressurrection questions whether this will give an opportunity to pedophiles to assume that because the media is allowing children to "consent", their agenda will be pushed next.
5. Domestic and Sexual Violence in the church: A Reality Show Review The Sisterhood Reality Show was certainly one that most protested in their own right, some launching petitions and major pastors made videos about the discretion of women in positions of such authority. When Ressurrection watched the show for a few minutes, a comment was made about pornography and pedophilia that was misleading to the christian community. In the spirit of correcting the misconception she wrote about domestic and sexual violence in the church.
6. Bishop Larry Trotter: When is it too old to bathe with your child? Ressurrection responded to the picture of Bishop Larry Trotter and the onslaught of mean comments that followed accusing him of pedophilia for taking a bath with his granddaughter. After brief research, Ressurrection offers an unpopular take on this issue and warns that by calling him a pedophile without an understanding of pedophilia, people may actually cause more harm than good by allowing the real perpetrators to go under the radar.
In 2013, adding the photo exhibition element to our National Child Abuse Prevention Month campaign entitled, "Heal Me With Words™", will create the awareness and broken silence that affords victims the justice necessary to heal.
For more information about Heal Me With Words™ or Make Child Sexual Abuse Grooming A Felony which are lead by Ressurrection Graves to end child sexual abuse please call: 202.717.7377 (RESS) or email: ressurrection dot wordpress at yahoo dot com.