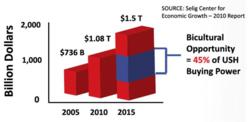 "This new segmentation model reflects the reality of the U.S. Hispanic consumer market; it is based on attitudes, not demographics, similar to those created for General Market."
San Diego, CA (PRWEB) February 08, 2013
Marketers are missing an opportunity of more than $670 billion from Bicultural U.S. Hispanics according to a new study released by Culturati Research & Consulting, Inc.(Culturati). The study, a partnership with Procter & Gamble and Kraft Foods, is the authoritative research on U.S. Hispanic consumer segments and delivers breakthrough knowledge that enables marketers to stretch the reach of their Spanish and English-language marketing efforts.
This groundbreaking study indicates that U.S. Hispanics no longer follow the traditional path of acculturation and, therefore, traditional acculturation models based solely on language and demographics do not effectively segment the U.S. Hispanic population – and in particular, the unique Bicultural segments. As such, a new segmentation model is needed in order to understand their distinct identities and values, and how these in turn shape their acculturation process – or even their retroacculturation process.
Culturati's new attitudes-based acculturation model has uncovered three critical U.S. Hispanic segments: Latinistas, who represent the more Culturally Hispanic consumers, as well as Heritage Keepers and Savvy Blenders, who together represent the Bicultural group of over 14.7 million U.S. Hispanics, or 43% of the total adult U.S. Hispanic population. These three segments present opportunities to more effectively connect with the U.S. Hispanic population and turn insight into foresight by leveraging current Spanish-language communications to embrace the more progressive Biculturals who consume primarily Spanish media (Heritage Keepers), and by optimizing English-language communications to advocate for cultural diversity and the pride English-preferred Biculturals (Savvy Blenders) feel for their cultural duality.
"It is time to look at the U.S. Hispanic population through a more focused lens. Doing this will be critical for the success and growth strategy of brands in today's diverse consumer universe," said Marissa Romero-Martin, Culturati's President and Founder. "This new segmentation model reflects the reality of the U.S. Hispanic consumer market; it is based on attitudes, not demographics, similar to those created for General Market," she added.
The study consisted of 43 in-depth qualitative sessions and comprehensive quantitative interviews of more than 1,000 Hispanics and a benchmark of 200 General Market consumers across the United States. Interviews were completed in late 2011 and the results are available in syndication as of Q4 2012.
Culturati is a full-service market research and consulting firm founded in 2004. With headquarters in San Diego, California, Culturati conducts in-person and online qualitative and quantitative research for the nation's Fortune 100 marketers with a specialty in U.S. multicultural segments.
For additional information on this topic, please contact Patrick Elms, Director, Research and Advanced Analytics at Patrick.Elms@CulturatiResearch.com.