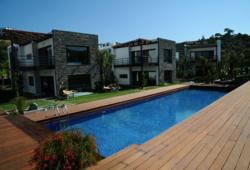 Investors may need to look again at the tax liability on the holiday homes they own as a result of this latest court judgement.
(PRWEB UK) 13 February 2013
While investors themselves will not be affected, the 40% inheritance tax bill is likely to fall on those who stand to inherit holiday property. According to the Financial Times this month a change in the tax law could impact on 65,000 holiday home owners.
Loxley McKenzie, Managing Director of Colordarcy commented, "Investors may need to look again at the tax liability on the holiday homes they own as a result of this latest court judgement.
The HMRC has been pursuing this tax loop hole for some time and it now looks like they have won their battle to make those who inherit holiday homes pay 40% tax."
Colordarcy highlights that the inheritance tax threshold is currently £325,000, which is expected remain in place until at least 2015.
The change in tax rules happened after a tribunal ruling last year, which had found in favour of holiday home owners. This would have meant that those who own holiday homes may have qualified for business property relief and thus could have avoided paying inheritance tax altogether.
Unfortunately, this ruling has been overturned on appeal. In the recent HMRC v Pawson case, it was found that the owner did not have 'substantial involvement' in the property or enough that would make it appear like a business.
So the conclusion to all this is, if an investor is unable to prove that they used the property for business purposes then they will be liable. This would certainly be the case, for example, if the accommodation fails to provide a holiday experience for guests, rather than just some accommodation.
So what does all this mean for investors in overseas property?
There are some countries where inheritance tax doesn't apply, however if an investor happens to own a property in those countries and is classed as living in the UK, then the 40% inheritance tax would still apply.
The situation is more complicated in countries that do have their own inheritance tax, like Turkey for example. If an investor owns a holiday home in Turkey then they may choose to pay their inheritance tax in that country where the maximum is 30%.
Turkish real estate experts at Colordarcy say it will be useful to seek advice from Turkish property tax experts to avoid any headaches for loved ones or those you stand to inherit property.
One glimmer of hope on the horizon is that there may well be another change in the rules when the issue is taken to the Court of Appeal. This will aim to establish a set of guidelines that say what does and does not qualify as a business property.
Notes to the editor:
Colordarcy is a leading property investment company that specialises in finding positive cash flow investment properties worldwide. Colordarcy investment property portfolio includes some of the best properties for sale in Brazil, Florida, Turkey and the United Kingdom.
For more information, supporting pictures or logo artwork, please contact:
Brett Tudor
PR Manager
Tel: +44 (0) 207 100 2393
Email: press(at)colordarcy(dot)com
Web: http://www.colordarcy.com/