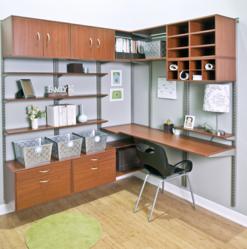 When a space is at a premium, having the right home storage system in place is crucial.
(PRWEB) February 19, 2013
As the U.S. housing market gains traction, households remain hesitant to add space to their homes through special function rooms, with a few exceptions such as home offices and mud rooms for the storage of everyday items says a recent Design Trends Survey published by the American Institute of Architects (AIA).
Households are finding that improved use of existing space allows them to downsize and save money because smaller space renders a more energy efficient home.
"When a space is at a premium, having the right home storage system in place is crucial, said Jennifer Castenson, vice president of marketing at Organized Living. "Organized Living offers a variety of storage systems for home buyers to create fully functional spaces in areas throughout the home. For instance, freedomRail storage systems are popular with home buyers because they are strong enough to withstand daily wear of busy families in high traffic areas such as mudrooms and can be easily adjusted as needs change in spaces like home offices."
The freedomRail product line, manufactured by Organized Living, provides strong, versatile storage solutions for home organization.

The O-Box (Organizational Box), features cubbies, drawers and baskets for a truly customized storage option for the office.
freedomRail Spanners eliminate wasted space. They attach between uprights and are great for hanging hats, jackets, book bags and coats in mudrooms.
Adjustable shelving allows consumers to place shelves at any height for optimal storage. Plus, shelving is easy to adjust to fit their changing needs.
"In addition, freedomRail offers the quality and details of a custom-built closet," Castenson said. "Its main benefit is that it is truly adjustable so components can be moved up, down and side to side at any time. freedomRail also meets builders' needs because installation is production-oriented and it is an easy-to-sell upgrade."
Organized Living products are manufactured with the highest quality materials for strength and durability to last a lifetime. For more information on freedomRail home organization, visit OrganizedLiving.com.
About Organized Living
Organized Living brings superior storage and organization to the world through strong products, strong people and strong brand, helping people organize their lives. From the closet to the kitchen to the garage, Organized Living offers high-quality, innovative storage and organization products that make everyday life easier and sells through professionally installing dealers, retailers and online retailers. http://www.OrganizedLiving.com.