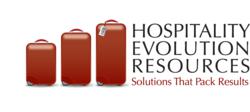 PCI is just the tip of the iceberg -- Encrypting credit card information is the first step and protecting valuable identity information typically tied to hotel guest data is next.
Lake Worth, Florida (PRWEB) May 31, 2013
The Venza Group and Hospitality Evolution Resources are joining forces to develop the first robust and insightful training curriculum dedicated to the hospitality industry on the topic of protecting "Personally Identifiable Information" (PII). Scheduled for launch June 2013, the initial 4-pack of online training modules will teach hospitality staff about the crime of identity theft and the subsequent importance of protecting guest data – including the risks and consequences of guest data breaches along with steps to take to better safeguard the personal information of guests, employees, executives, and hotels.
"We are pleased to be partnering with the leading hospitality online training provider, the Venza Group, to drive this initiative. Training hoteliers and hospitality staff about the importance of protecting Personally Identifiable Information or PII is a top line priority in 2013," said Evelyne Oreskovich, President of Hospitality Evolution Resources. "The industry is realizing that PCI compliance is just the tip of the iceberg. Encrypting credit card information is the first step and protecting valuable identity information typically tied to hotel guest data is next. Often stored in raw, unprotected files, staff regularly shares PII both internally as well as externally; this unique curriculum truly offers the first hospitality driven course and presents the topic in detail from the victim's perspective, while educating staff on the hotel's liability. It is also the first system developed by the hotel industry for the hotel industry."
"Our team is excited to announce this partnership as we continue to focus on the development of online training modules with the hotelier in mind," said Daniel Johnson, Chief Operations Officer of the Venza Group. "Hospitality Evolution Resources brings an incredible wealth and depth of knowledge with regards to privacy information awareness from the hotel perspective. We are sharing this groundbreaking training curriculum in a very consumable package that is far more robust than any other such program developed to date. We are thrilled to present this exciting new level of information on the topic of PII to the world."
The four initial training modules that comprise the new "Personally Identifiable Information" Curriculum include:
1. Introduction to PII – This essential PII introductory course is designed for all team members. It defines "Personally Identifiable Information" (PII), describes the crime of identity theft and highlights how identify theft can personally impact employees. Participants will learn how thieves get access to PII (PII is compromised online and offline as well as via third parties); procedures for protecting employee and guest data; employee responsibilities; tips and best practices for protecting employee and guest PII; as well as consequences to hotels and employees if breaches occur.
2. PII for Guest-Facing Staff -- Whether part of the Call Center team or Reservations, Front Desk or Food & Beverage staff, this module teaches all those involved with point of sale or guest-facing services about how much PII they are exposed to every day. This course will train participants where threats exist in their day-to-day jobs, review possible scenarios and reflect on common practices that may benefit thieves, as well as identify the best practices that should be employed by point of sale staff to ensure safety of PII.
3. PII for Sales & Marketing -- This module addresses the growing fear of privacy violations and identity theft vs. the need for customer recognition and effective CRM in the hotel industry. Specifically created for Sales and Marketing team members, this course more clearly defines the types of hotel data that can be considered PII. Participants will learn the dangers, mistakes and best practices for using PII both internally and externally with third party vendors. The course also uncovers lesser known issues surrounding hosting guests from foreign countries, and reviews the overall impact and consequences of PII breaches, including current lawsuits in the industry, negative press, liabilities and terminations.
4. PII for Executives -- With the increasing focus on commercial entities by the media and government agencies, this training program addresses the roles and responsibilities of hotel executives with regard to protecting guest PII. The module reviews statistics about privacy violations and identity theft in the hotel industry, uncovers legal concerns and legislation, and touches on Human Resource requirements. Participants will review examples of how PII is compromised (onsite, offsite, via third parties); learn about laws affecting guests from certain states and other countries regarding how long their data can be stored post-departure; as well as develop an understanding for how the Federal Trade Commission protects privacy for consumers. Executives will learn real world best practices including: How to securely share and store data; how to train staff on PII policies; as well as the basic risks, mistakes, and consequences of breaches.
This innovative PII online training curriculum consists of four standard modules described above and will be available in June, 2013. Three additional a la carte modules on the topics of PII for Human Resources, Accounting & Finance, and IT & Security are in the works - projected for completion in July, 2013. For additional information, visit HER-Consulting.com/PII-Training or venzapeak.com/view-solutions/pii. To explore pre-launch promotional pricing contact HER's Marion Hughes-Roger at 1-646-670-8837 or via email at pii (at) her-consulting.com or the Venza Group's Daniel Johnson, at 770-685-6502 or via email at Daniel.johnson (at) venzagroup.com.
About the Venza Group
Founded in 2008, the Venza Group® bridges the gap between technology and user competency for the travel/hospitality and retail industries worldwide. Software providers and hotels leverage the Venza Group's expertise and unmatched passion for service to achieve system adoption and maximize operational efficacy. Armed with keen industry knowledge and a suite of products (e.g. Bridge™ and the PEAK™ Compliance and Performance training series), the Venza Group generates results. More than 5,000 hotels in over 100 countries look to the Venza Group for tools, technology and strategic thinking.
About Hospitality Evolution Resources (HER)
Hospitality Evolution Resources (HER) provides a comprehensive array of services and solutions dedicated to the Hospitality industry including expert project management, clear thought-leadership, strategic vision, gap analysis, RFP design, vendor vetting and training. Led by award-winning industry veterans with knowledge in diverse areas of the lodging business, HER provides Hospitality-related companies with "solutions that pack results" — effectively bridging the gap between Management, Operations, Technology and Marketing to motivate teams, improve productivity, lower costs, and increase revenue. The company additionally enjoys acclaim for its robust training curricula focused on a range of Hospitality focused topics including Distribution and PII security. For additional information, visit the company's website at HER-Consulting.com.
###