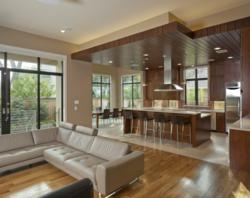 Houston, Texas (PRWEB) January 23, 2013
This Saturday, January 26th, is the third annual Houston Modern Home Tour. This is the Texas-based first stop on the national 2013 spring tour. Houstonians have the chance once more explore the inside and outside of their city's finest examples of modern architecture and interior design.
The city-wide, self-guided driving tour will feature six to ten architecturally progressive and contemporary homes in and around Houston that exemplify modern living. The architects and neighborhoods featured in the 2013 Houston Modern Home Tour include:

A sophisticated, minimalist 3-level home by Strasser Ragni Architects in the heart of the Neartown-Montrose neighborhood
A "midcentury restoration" to a 1955 ranch house by Janusz Design in the southern end of University Place
A beautiful new modern home by Hollenbeck Architects in Bellaire
A 1926 historic bungalow in historic Houston Heights, completely updated and modernized by Brett Zamore Design
A brand new, elegant and Modern Tuscan-style home in Piney Point by Bellaire Builders
A second home, nicknamed the "Tree House," by Strasser Ragni Architects located in the Montrose district
Another newly-built modern home with grand interior spaces that envelope a central pool courtyard, designed by Allen Bianchi Architects in Boulevard Oaks
The Lawndale Art Center has been named as the non-profit partner for the 2013 Houston Modern Home Tour. They will receive a portion of the tour's proceeds.
Participating homes on the 2013 Houston Modern Home Tour will open their doors to tour-goers from 11:00 AM – 5:00 PM on Saturday, January 26. Advance tickets are discounted online. Kids under 12 are free!
For details and ticket information, please visit http://houston.modernhometours.com.
About Modern Home Tours, LLC: Based in Austin, Texas, Modern Home Tours, LLC was founded by partners Matt Swinney & James Leasure to introduce Modern architecture and living to people across the nation. Through fun and informative tours in dozens of cities across the USA and Canada, we invite people into some of the most exciting examples of Modern architecture and design in the nation. With carefully selected architects, neighborhoods and architecture, our home tours are unlike anything you've ever seen. Not only will you learn about the cutting edge of home design while on our tours, but you might even get an idea or two for your next home project!