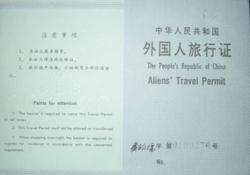 Tibet travel permits and tour visa application is easy with local reliable Tibet travel agency.
(PRWEB) April 03, 2013
Lhasa local Tibet travel agency, Tibet Ctrip Travel Service-TCTS (http://www.tibetctrip.com) previously announced that Tibet travel permits start being issued on April 1st 2013! This exciting change in travel policy will allow foreign travelers to enter Tibet much easier than last year. To help travelers understand the local travel policy better, here TCTS updates the new guidelines of how to apply all necessary travel documents.
How to get Tibet permit or visa in 2013 must be a headache for many foreign travelers who are far away from Tibet. The latest policy says individual travelers can obtain permit for entry to Tibet but a group with different nationalities can not. "It means that even one person can have a private Tibet tour; but for two or more people with different nationalities, they can not enter Tibet with one permit." TCTS says.
New Tibet travel advices on Tibet permits:
1. Fix travel arrangement through a reputable local tour agency which has got reliable Tibet tours reviews from travelers in the past. It is better to avoid any agencies that got bad reviews and many complaints which travelers can easily Google search out from internet. No mater how big or how famous the brand is, be sure it is Tibet locally based. And when travelers make payment to confirm tour booking, travelers had better avoid any individual bank accounts or travel agency bank accounts which are outside of Tibet. Only local registered legal agency here in Tibet can apply all necessary Tibet travel permits. So to book tour with local agency is the core point to avoid outrageous price and possible permits hassles.
2. Confirm Tibet tour at least 3 weeks in advance and provide passports and/or China visa photo copies to agent on time. Tibet travel agency will prepare all paper work and submit it to local government offices such as PSB (Public Security Bureau), TTB (Tibet Tourism Bureau), Tibet Military Agent Office, Foreign Affairs Office, etc 2 weeks in advance of travelers arrival.
3. In most cases, about 7 to 10 days before tourists' departure for Tibet, the agency can get Tibet entry permits and they need to send the physical documents to the hotel where travelers stay in China before flying to Lhasa.
4. To avoid comparatively expensive private tour, it is great for Tibet individual travelers to tour Tibet in a small size group in which all tourists have the same nationality. According to the new Tibet permits policy, foreign tour group should have the same nationality thus they can obtain the permits.
5. However, no one knows how soon the permits policy will change and what changes it may happen. Depending on the time of year and local political climate, when booking a trip to Tibet, it is important to remember that government regulations can prevent all Tibet travel permits from being issued with little to no advanced notice.
Now that the ban on Tibet travel permits has just been lifted, travelers can visit many of Tibet's most famous cultural sites and witness some of the most magnificent scenery on earth. TCTS makes Tibet travel easy by carefully planning tours, obtaining necessary permits, and providing quality native Tibetan guides, experienced and safe drivers.