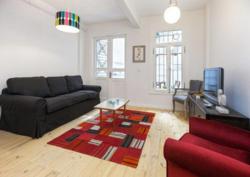 It comes as no surprise that Istanbul is attracting the attention of the national press. Colordarcy analysts have been highlighting the potential of Istanbul for the past 12 months.
(PRWEB UK) 6 April 2013
The Telegraph included Istanbul in its article 'The world's top 20 cities to buy-to-let property' this month.
Loxley McKenzie, Managing Director of Colordarcy comments, "It comes as no surprise that the Istanbul property market is attracting the attention of the national press. Colordarcy analysts have been highlighting its potential for the past 12 months.
Rents may well be static or growing modestly in the UK, for example, with RICS forecasting just 2% growth this year. In Istanbul, however, it has been a totally different story. We have seen rents rise by more than 15% in Istanbul and prices rise by nearly 20% in the year to January."
Colordarcy analysts point out that income from rent is likely to be much higher in Turkey as the incomes of the local population rise and demand for property in Istanbul increases. Foreign investors are also arriving in increasing numbers, which only serves to increase competition for available property.
The case for turning attention away from the UK and other European countries towards Istanbul property has never been stronger according to Colordarcy. McKenzie added, "Finding good rental income is what property investment is all about. Capital growth is just the icing on the cake."
According to Colordarcy analysts, a property market will have either rising rents or rising prices. Only rarely do both happen together. Yet this happened in Istanbul and several other cities in Turkey in the year to January 2013 according to residential property statistics release by Readin.
Residential rents for existing homes in Istanbul increased by 15.24% while prices for existing homes increased by 19.47% in the same period.
All the indications are that Turkey's property market has yet to peak and the secret sauce that makes every property market tick is adding more spice to Istanbul's potential as one of the world's best buy to let property markets.
The availability of finance and the ability to take on loans to buy property is crucial to the long term stability of any property market. As mortgages have been harder to come by in most European countries, Turkey's mortgage market has expanded rapidly. This has been helped along by tumbling interest rates that have fallen from more than 20% in 2009 to less than 10%. As a result, borrowing far more affordable for those who aspire to own their own homes in Turkey.
The amount of housing loans has increased by a factor of six, from TRY12.4 billion in 2005 to TRY86 billion in 2012 (Source: Global Property Guide).
What makes all this possible is a well-managed economy according to Colordarcy. All the main economic indicators for Turkey have turned green – GDP is predicted to be hitting 4% this year while unemployment continues to fall (Source: Turkstat).
Notes to the editor:
Colordarcy is a leading property investment company that specialises in finding positive cash flow investment properties worldwide. Colordarcy investment property portfolio includes some of the best properties for sale in Brazil, Florida, Turkey and the United Kingdom.
For more information, supporting pictures or logo artwork, please contact:
Brett Tudor
PR Manager
Tel: +44 (0) 207 100 2393
Email: press(at)colordarcy(dot)com
Web: http://www.colordarcy.com/