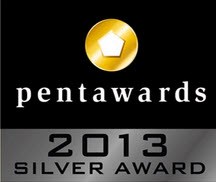 Wow! We're deeply honored by the Pentawards for their recognition of KEY by JOPEN's creative packaging.
Los Angeles, CA (PRWEB) September 26, 2013
KEY by JOPEN awarded a prestigious Pentaward for packaging design. The Silver Pentaward was officially announced on September 21st, 2013 at the gala Pentawards presentation in Barcelona, Spain.
This is the second award KEY by JOPEN has won recently for its creative packaging. Last week, the company was honored with a Silver Award from the Creativity 43rd Print and Packaging Awards for outstanding creative design.
Susan Colvin, President and CEO of JOPEN, says, "Wow! We're deeply honored by the Pentawards for their recognition of KEY by JOPEN's creative packaging. Everyone on the KEY by JOPEN team worked hard to make KEY a globally recognized brand, and this accolade is a testament to everyone's dedication and commitment."
The Pentawards are a worldwide competition exclusively devoted to packaging design in all its forms. It is open to those associated with the creation and marketing of packaging in all countries. Winners are selected by an international jury based on the creative quality of the work submitted.
KEY by JOPEN is known as a fun collection of affordable pleasure products. The packaging boasts the bright, cheerful colors that have become identifiably KEY—raspberry, lavender and robin egg blue. The copy is cute with sayings like: "Hello Gorgeous" and "Lift off in 3, 2, 1…" which gives the brand a cheeky and trendy identity. The top-opening boxes feature a satin hang tag so they are versatile at the retail level, meaning they can be placed on a shelf or hung from a hook.
To see KEY by JOPEN's award-winning packaging, and for other information about KEY and all the JOPEN Collections, visit http://www.JOPEN.com.
About JOPEN, LLC
JOPEN is a global luxury pleasure product company with a business model focused on form and function. An expert team of women drives the creation of JOPEN's best-selling collections: Vanity, Intensity, EGO, KEY, and ENVY. Additionally, new to JOPEN are the Essence and LUST lines. JOPEN understands the luxury market and fashions JOPEN products with the features that women and men want. JOPEN has licensed, authorized distributors, which guarantee efficient, accurate, rapid delivery so retailers always have available stock. JOPEN provides pleasure with outstanding customer service, one of the best warranty programs in existence, and products that are designed to please. Visit http://www.JOPEN.com. Encounter the new standard in luxury pleasure objects.