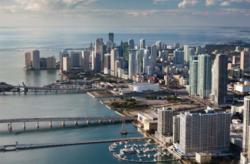 Property prices in Europe's prime cities are being held back by struggling national economies which make them less attractive to foreign investors.
(PRWEB UK) 3 May 2013
Commenting on the Knight Frank report Loxley McKenzie, Managing Director of Colordarcy, said, "The report is useful because it provides investors with an insight into the underlying health of a country's property market. The top 5 cities in the report all have strong or recovering economies that help support growth.
"On the other hand, property prices in Europe's prime cities are being held back by struggling national economies which make them less attractive to foreign investors."
Colordarcy analysts highlight that much has changed since the first Prime Cities index in 2011 which saw two European cities in the top five, with Paris occupying top spot. Now European cities are conspicuous by their absence with none appearing in the top five and only St Petersburg and Monaco featuring in the top ten.
Even London, which has been seen as a safe haven, was in sixth place two years ago and has now slipped down to 12th place. According to Colordarcy, this reflects a steady loss of confidence in the UK capital after the country lost its triple 'A' rating and the economy once again flirted with a triple dip recession early in the year.
According to the report, the top performing prime global city was Jakarta which is supported by a national economy which posted 6.2% GDP in 2012. Second-placed Bangkok also benefits from a booming Thai economy, which has seen 18.9% GDP in the same year.
Colordarcy analysts add that Miami is benefiting from recovery in the US economy with GDP hitting 2.5% in 2012, even if this falls far short of the red hot Asian economies. It is clear, however, that Miami is a case apart because prime property prices have risen by 21.1% in 12 months even though other US cities such as New York have actually seen prices move in the opposite direction falling -7.1%.
While it certainly helps that the US economy is in positive growth mode, Miami is attracting the attention of affluent Latin American investors from Brazil, Venezuela and Argentina. As the Brazilian economy grows more people consider Miami as an attractive alternative, particularly with prices that are still some way behind what they were at the peak of the last property boom in the city.
For example a luxury waterfront apartment in Miami with room for a yacht can still be bought for as little as £400,000. This is still exceptional value for a city that is counted in the same league as Monaco on the Prime Global City list.
As the exceptional growth in Miami property last year shows, foreign investors are a more powerful driver of property markets than economic growth. With less interest from foreign investors who see Europe as more risky than it was, it could be some time before more of Europe's cities are back in the top 10.
Notes to the editor:
Colordarcy is a leading property investment company that specialises in finding positive cash flow investment properties worldwide. Colordarcy investment property portfolio includes some of the best properties for sale in Brazil, Florida, Turkey and the United Kingdom.
For more information, supporting pictures or logo artwork, please contact:
Brett Tudor
PR Manager
Tel: +44 (0) 207 100 2393
Email: press(at)colordarcy(dot)com
Web: http://www.colordarcy.com/