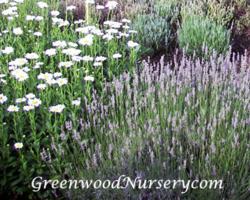 We begin shipping lavender plants early to mid March
McMinnville, TN (PRWEB) January 20, 2013
It's January and time to order your lavender plants for spring shipping and save with Greenwood Nursery's Annual Book Your Lavender Plants for Spring Shipping Promotion.
"We begin shipping lavender plants early to mid March", notes Cheryl Jones, Greenwood Nursery owner. "This promotion started years ago when we wanted to promote one of our newest lavender plants and it's become an annual tradition."
Munstead and Hidcote Blue are English Lavender varieties are early bloomers beginning in mid spring. Once they complete their first round of blooming, they typically begin again. Hidcote Blue Lavender grows especially well in cooler climates.
Spanish Lavender Plants typically bloom around mid to late spring. The Kew Red is also referred to as Rabbit Ears or Butterfly Lavender because of the petals at the top of the bloom much like tiny pineapples. The blooms are not as sweet smelling as other lavender varieties so they will not attract swarms of flying insects, yet honeybees seem to enjoy them. This variety is note worthy, because it performs better in humid areas than other lavenders.
French Hybrid Lavender Plants are cultivars of Lavandin (lavandula x intermedia) which are cultivated mostly in France for their oils. Both Grosso and Provence are excellent choices for strong fragrant buds and for craft projects such as drying for bouquets and wands. Grosso is especially cold hardy.
Steve and Cheryl Jones founded Greenwood Nursery, an Online Plant Nursery, McMinnville, TN, in 1978 as a wholesale and propagation nursery. In 1998, they took their plant catalog online offering a wide selection of garden plants to the home gardener. Greenwood Nursery ships their plant catalog throughout the continental United States.
For further information or to place an order, please visit http://www.greenwoodnursery.com. Questions may be sent by email or by phone during office hours, Monday through Friday, 8am to 4pm central time.