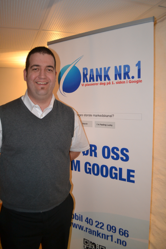 - Google is therefore the company's main digital marketplace, and why local SEO is the key to success.
(PRWEB) April 22, 2013
Terje Sannarnes CEO of Rank no1 explains that a combination of fully responsive web design and professional search engine optimization is the key to maximizing visibility on the web. Sannarnes goes on to say that fully responsive web design ensures that a web site looks and feels great on all devices. Search engine optimization determines the position in the search engine results.
Sannarnes shows that when a home user or a business should initiate a purchase of goods, almost everyone searches the web for relevant suppliers. "New figures indicate that when a company or private person decide to make a purchase of goods, the decision in more than 60 percent of the cases is being made on the Internet, and this number is steadily increasing," Sannarnes states.

Introducing the new team of global representatives that have recently joined forces with Sannarnes in bringing Rank No1 servies to the global market, he stated that it is very important for a business to be visible on the web when searching for goods and services that the company provides and he went on to say that, "this is a global issue."
Google`s Front Page
"It is important that the company can be found on the first Google page that comes up when the search is made," Sannarnes remarked. He went on to explain that "if a page is shown on page 10, 15 or even further down, there is no, or at best very few, that click through page after page. If a company name is first shown on one of these pages, the company page is almost to be regarded as non-existent if the goal is that the site should generate traffic and thus increase the trading of company's goods and services."
After a brief introduction to the newest members of the Rank No 1 team, who hail from North Americs, UK, Australia, Norway, Spain and the Caribbean, Sannarnes mentioned that, "We have developed a method allowing the company to be shown on the first page of Google search. The method is effective, but for it to be successful in resulting in high ranking in the search results, it requires long term work. Our answer to success is called search engine optimization." Sannarnes stressed the importance of the method in which the website is constructed and mentioned that "the text on the pages has to written in a way that provides good visibility."
Top Marketplace
Sannarnes pointed out that Google alone has well over 200 million searches daily, and that every five searches is a local session, he explained that, "this means more than 40 million local people are searching daily."
Terje Sannarnes, further indicated that "Google is the company's main digital marketplace, and why local SEO is the key to success." Sannarnes and his team said that Facebook is also an important marketing arena. The company, Rank No 1"offers a solution that secures optimal integration of both the website and the Facebook page," he said.
Sannarnes underscored that there are no shortcuts to success, even in this area.
"What we are doing is a long term effort that attains high rankings and causes the website to gradually emerge as the dominant player in any particular industry." Sannarnes remarked. He continued by saying that "this gives the company a natural visibility online compared to the competitors." "Now the sale goes to this website and not to the competitors," he said.
Rank no.1 is associated with a network of experts that have broad expertise in web development and have experience dating back to the internet's infancy in the 90's. Several companies have seen the value of what Rank no.1 has to offer
Sannarnes says that most companies have very much to gain through cooperation with Rank no.1. He says "success is dependent on how the website is built, how the text is written, and what "tags" lie behind the page."
Tailored Responsive Web Design Solution
Sannarnes quipped, "this requires a lot more than that a company leader having a son who is good with computers" and who makes the company's homepage. Rank No 1 CEO indicated that in many cases the company finds that advertising agencies who charge exorbitant prices to make a website or online solution to a business, "are not aware of what it takes to end up on Google's first page in web searches."
Sannarnes explained that as a result his team work continuously to ensure that a company's position on Google is maintained throughout the entire process of their tailored solution. The confident CEO expressed that, "All our work on visibility and search engine optimization has resulted in top 10 hits on Google searches and many of these search phrases are highly competitive.".
Be Fitted For a New Era With Responsive Web Design and Search Engine Optimization.
Rank No 1 top executive, Terje Sannarnes commented that, "at a time when online traffic is increasing sharply in line with a growing number of people using iPhones and iPads, then also the company`s home page must be adapted to the new trends." He further expanded to mention that this also requires that the page suits all types of applications and phones, and that the site has what Sannarnes describes as responsive web design and that the site is optimized for Google."
Terje Sannarnes announced his excitement at the new addition to his team as his company breaks into the global marketplace.